Beautiful day forecast for Michigan today, so got up early and took off for one of my favorite Saturday AM Cars & Coffees. Lingenfelters in Wixom. Beautiful hour drive through lake country and lots of cool cars and conversation. When I backed out of the garage, the engine hesitated for just a second. No big deal but literally has never done that before. Hmmm. Seemed to be running OK, so took off. Couple miles from home, noticed things didn't seem exactly right. Throttle was a little mushy and when I stopped at a stop sign it didn't immediately idle back like it usually does. In hindsight, should have turned back for home right then. But of course I didn't. Seemed to be going OK again, so kept going. Couple miles further at a stoplight it died. It has never done that before either. Welcome to a morning of firsts. Started up but clearly wasn't running well. Turned into a church driveway. It died again and now I was done. It would start, but then very quickly stop again. Grrr. Called home and warned my wife she was probably going to have to rescue me. Based on the hour, she wasn't too excited to hear from me.
My first thought was fuel pump. With all the debate during the build about pumps, fuel line sizes, some guys having pumps dying prematurely, that was my first thought. The pressure gauge on the regulator showed 55 psi when the key was on, so seemed OK though. Once my wife arrived and I could get help trying to start it and watching the gauge, I could see it stayed at 55 when it died. So even though that was my first thought, didn't seem like the culprit. MIL was not illuminated.
After thinking through the various other things that could be wrong, decided really no choice but to have it towed back home where I could troubleshoot it. Was only 5-6 miles away at that point. I have roadside assistance on the insurance, so called the number, answered all their questions, and was promised a flat bed within 90 minutes. First time in my life with any vehicle that I've had to call for a tow. 30 minutes later a standard tow truck shows up. The guy says "I can do it" but I said no you can't. Waited about another hour for the flat bed. Guy was super careful and got it up on the truck and back home without incident.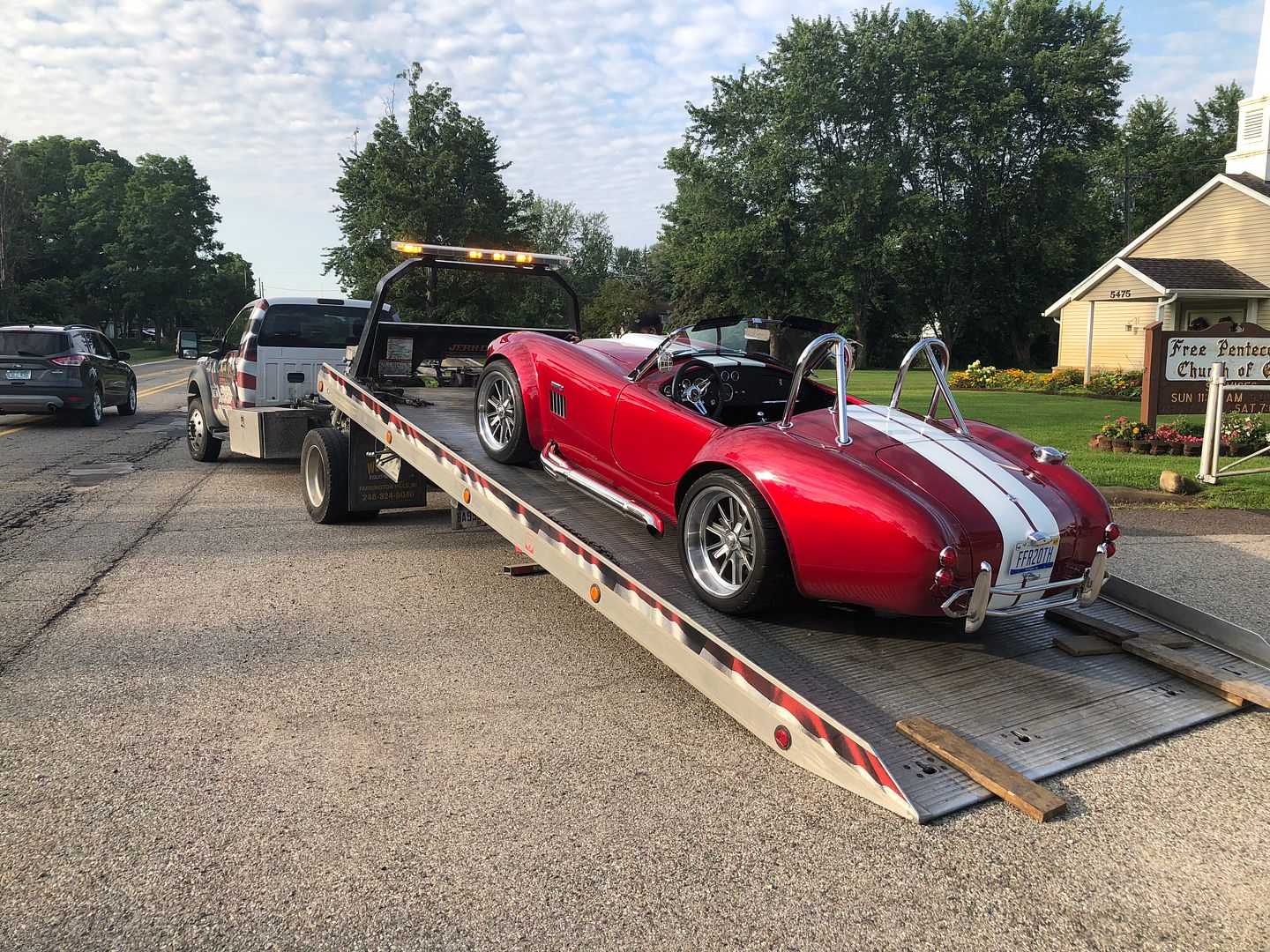 Once back in the garage, the driver wanted to talk cars a bit and also look at the Coupe under construction. I opened the hood on the Roadster to show him the Coyote (even though I wasn't too happy with it at the moment) and guess what I saw:
Good grief. The air cleaner and MAF tube assembly was disconnected from the intake. Can't believe I didn't see that before. Temporarily pushed it back into place and of course it started right up and ran fine. That would have been an easy roadside repair. But a little late now. Spent another hour or so making a more permanent fix. At least I hope so. Used some 120 grit paper and roughed up both ends of the MAF tube so where it fits into the silicone sleeves there's something more for it to bite on. The polished aluminum is pretty but also slippery. I made sure all the clamps were good and tight. The shield on the air cleaner adds a little weight, and no doubt may have contributed to the problem. But it's aluminum and not very heavy. The setup should be able to handle it. Also put little red dots at the base of all the connections with my trusty red paint marker. I'll keep an eye on those witness marks to make sure the tubes stay where they're supposed to be. If they start slipping again, I'll think of something more to hold them. I put the scanner on the ODB2 port and confirmed there were no codes. Took a 10 mile or so test drive, and it ran perfectly, like it always has before.
Lessons learned? Add this area to the watch list. Check the clamps occasionally. Pretty sure they haven't been touched since the car was done. When there's a breakdown, don't get so fixated on one thing like I was with the fuel pump that the obvious is missed. Add a winch to my SE trailer. I could have gotten back home myself pretty easily if I had a way to pull it into the trailer. Going to get right on that, and hope I don't ever have to use it.
My laptop died last night. I guess I should have known today wasn't going to go well either. Although I'm thankful it was an easy fix. Hopefully failures don't come in threes.