Discussion Starter
•
#1
•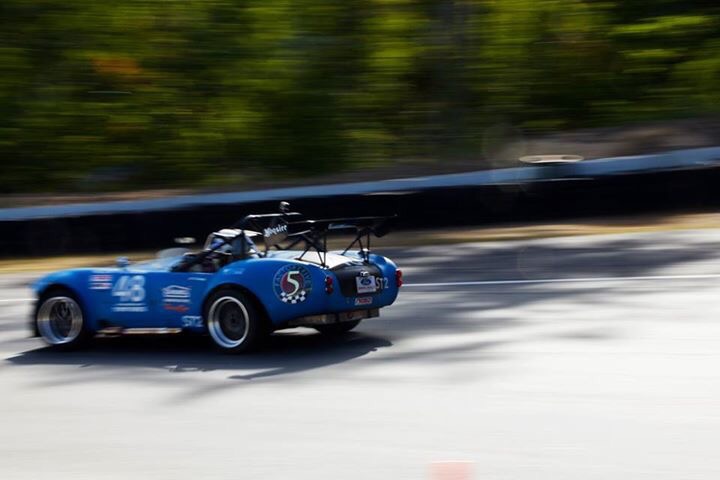 Won both days!
Palmer Motorsports Park, set in the Whiskey Hills of Massachusetts is only 2 hours from Nashua, NH. The track is all turns and crazy elevation change, suiting the great handling characteristics of FFR#48.
Thursday night Bill McMahon (Pat's dad, Pat would arrive Fri AM) arrived to the track first, followed by me with #48 in the RV, Jim bringing the 818R for more testing, and Chris Allen in his SpecE30. Everyone was eager for Friday's test day at the brand new facility.
Friday morning was set to be a busy day, I was to drive FFR818R in HPDE4 run group (the 3rd test this year), and FFR#48 in the Race run group. Before cars were to go on track NASA-NE organized a track drive in pickup trucks to familiarize everyone with the new track, so we all hopped in my pickup, driving the track slowly learning the many turns. The first real session out was HPDE4 in the FFR818R, which recently had its ECU fixed after a coil wire short fried it at the previous NHMS test. Jim changed the intercooler location since NHMS and we were looking for a good test like previous had at NHMS. This was not meant to be, the ECU had issues above 4000RPM. I brought it in and Jim went to work trying to diagnose what he could.
Palmer is epic, has a ton of elevation change, the track cuts in on itself, and is all turns. Since the new engine installation in my car (2 weeks prior I took out the old pushrod Ford 302 and replaced it with a Coyote 302 from a junkyard 2013 F150 that had 19K miles on it.) power steering was cutting in and out, and could not figure out why, it was the same power steering pump that FFR ran in their coyote powered street car and they never had these issues. Battling through the lack of consistent power steering I was still able to learn the track putting down reasonable laps in the later sessions. Friday night we changed the power steering pump with one Jim had at FFR as a spare hoping to resolve the issues.
Saturday AM came around with the first session on track being practice. The power steering issue was still not resolved so I came in early as my small steering wheel was inadequate, and borrowed Bill McMahon's bigger steering wheel which luckily fit my steering hub splines. Qualifying we decided to remove the power steering belt disabling it completely, and with Bill's bigger steering wheel I only did 2 laps and came right in with tired hands. After getting scaled at 2601lb (my minimum weight is 2600lb) I ended up 2nd in ST2 and 4th overall! Not bad for the first time out with the new engine.
For the race we hooked the power steering back up, 30min was un-drivable without some assist even if it was inconsistent. I had a great start blowing past the 2 BMWs in front of me and was in the lead overall by turn 1. Adrian in his ST2 Corvette was hot on my tail and we started what was a great battle, side by side through most of the track for a couple of laps. His Corvette suddenly went into limp mode due to the tire pressure monitoring system fault, Adrian forced to hit the pits removing himself from the intense battle for the ST2 lead. After Adrian's departure I took it easy and brought home the win overall, and first in ST2.
Saturday PM had another track walk where we got an in-depth look at the corners and elevation changes of Palmer, followed by the awards ceremony and NASA-NE barbeque dinner.
Sunday morning I changed out the power steering rack during the practice session. Qualifying Adrian was in front of me and both of us setting some fast laps with me the victor qualifying P1 in ST2 and 3rd overall. Chris was not as lucky, during his qualifying run he put 2 right wheels off and found a giant bolder which hit underneath his car hard puncturing his gas tank. I saw him gushing fuel and followed him into the pits, helping him push his car away from the RV, jacking it up, and putting a catch can to catch all of the spilling gas. Chris had to retire, loaded the car up on the open trailer and left for home.
The race start was similar to Saturday but this time it took a little while for Adrian and I to clear the front runners, with me shadowing Adrian's every move. We were both pushing real hard and started to catch traffic from the back of the field slicing through it. Adrian unfortunately lost the rear of his Corvette spinning in front of me, with a couple of laps left in the race could not catch back up giving me P1 overall again! What a great weekend! 2 wins! New racetrack that is only 2 hours from home! Excellent!
The last event this year will be at NJMP October 16-18 where Pat McMahon will hopefully be there with his fixed engine setting the stage for more great on-track battles.
Pictures:
Palmer Sept 25-27, 2015
Incar videos:
https://youtu.be/DvH-xK0GAT0
https://youtu.be/yJevTcFT5Ms
https://youtu.be/J6_OtvVB91o