Discussion Starter
•
#1
•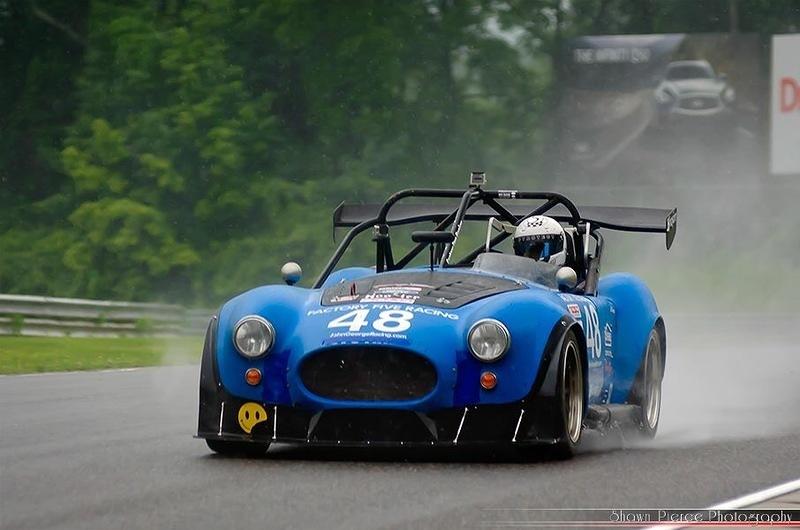 Fun weekend at Limerock FFR#48 playing with the big boys in ST2! 2nd place Friday, 3rd place Saturday.
NASA Northeast had competitors racing Friday and Saturday at Limerock racetrack over Independence Day Weekend. Factory Five was represented with Pat McMahon in his FFR Challenge car, John Kabacinski with his GTM and I with my FFR Challenge car. Bill McMahon (Pat's father) also came to run HPDE with his Austin Healey.
On track for the first time with aerodynamic components #48 performed extremely well, with minor adjustment changing the angle of the rear wing more steeply adding more down force as rear grip was lacking. In qualifying the car felt much better with this more aggressive wing setting allowing me to run a 57.8sec placing me 3rd .006sec off Paul Plemenos's Corvette in 2nd place, and .220sec off Pat in P1. The race started off frantic with me getting the jump on Paul passing him early into turn 1, then a long time shadowing Pat, able to match his lap times and even passing him in traffic. Mid to later part of the race the grip in my car was not what it was and I started dropping back with Paul passing me close to the end of the race then having his brakes lock up causing him to spin gifting me 2nd place. Pat drove an excellent race winning ST2, me 2nd, Paul 3rd. The top 3 fast laps in ST2 during the race were Pat = 57.481sec, me = 57.461sec, and Paul = 57.423sec, amazing close competition! John K. had a good race in his GTM until his car developed issues and was forced to retire from the race. It was later determined a loose battery cable was at fault.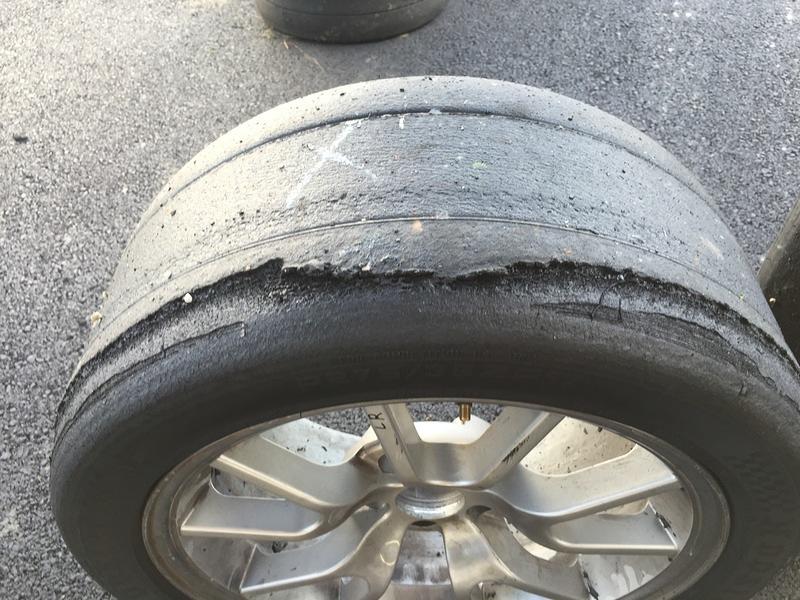 After the race Friday my drivers rear tire was missing 2″ worth of outside tread and after talking with Phil from Phils Tire Service and with Pat and Jim Schenck it was determined that running 275 Hoosiers on 9″ wheel was not a good fit, and that we need to try running 275 Hoosiers on 10.5″ wheels as the side wall instead of getting sucked in to fit on the 9″ rim would be pushed out on the 10.5″ wheel giving tire more support under extreme loads in my solid axle car. Pat let me use some of his 10.5″ wheels and I had Phil mount my tires on those wheels with hope on Saturday to try them out.
Saturday weather did not cooperate at all, it was light rain most of the morning and weather predictions by our resident weather app expert (John K.) decreed it would stop raining the latter part of our race. Qualifying was in the wet with Pat on pole once again, followed by me in P2, and Paul in P3. Which tires to run in the race was always a question on Pat's mind eventually choosing to stay on his Hoosier wets, me on Toyo RA1's and Paul also on Hoosier wets. The race saw Pat drive off in the distance winning overall having fun staying ahead of some really fast GTS3/4 cars in the rain. Paul and I had a great battle mid race with Paul passing me for P2, and I finishing P3.
Next event is National Corvette Museum Race Track in FFR Challenge trim (no aero!) hoping to have 10+ FFR Challenge cars attend at this new facility in Bowling Green, KY. Its a 17hr haul from NH but worth the trip with that many challenge cars showing up.
Pictures:
Limerock July 3-4, 2015