·
We know what you're up to
Sold
Well, my new cam is just too dang big for the PJIII system. So alas, I must sell. This thing has been looked over by Wayne Presley and worked well on his 347 mule. I have had the injectors cleaned and flow tested. I have only run it on my motor for a few minutes...my cam has .605" intake lift.
Here it is on Wayne's engine before he shipped it to me: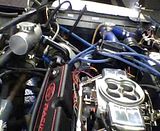 It retails for $1,569.95 at summit...
Part# 70020
(and that is without polishing or my nickel fuel rail)
Anyway, I'd like $950 shipped (lower 48 please). Buyer can have the fuel rail, 02 sensor, 02 bung, software, pigtails, and data cable. It still has Wayne's configuration on it, which I'll include as a separate file with the software so you can keep it.
Cheers,
Don