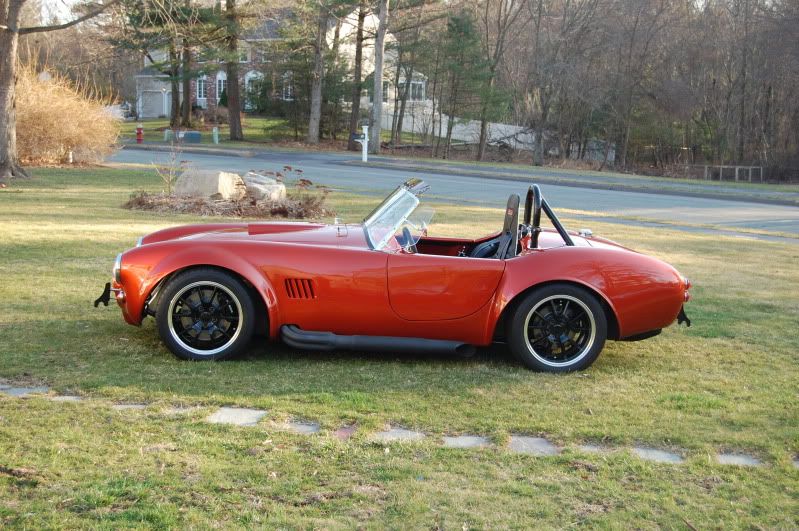 After nearly six years. It is time to graduate 5385! I purchased my roadster just before Moochfest in 2006 as part of the winter sale. Picked up in March, 2006, and the focus of my OCD for everyday since then. What a great trip this has been, and what great people I have meet along the way. My intent was to build a quality car on my own – forcing myself to stretch a little and do everything, from wiring to bodywork to interior. My roadster has evolved into something of a street rod roadster – not traditional in any way, and exactly what I wanted. I am sure that it is not everyone's cup of tea, but I could not be happier with how it came out. I still look at it in the garage and smile at the idea that I built it.
I could not have made it to the end without some help. Mike Forte is the best. I am lucky enough to work about 10 minutes from Mike's shop, and I spent many lunch hours picking Mike's brain and asking his advice. I had a small issue with my Ford crate motor, and Mike jumped right in and made it right. I sourced my whole drive train and many other parts from Mike and Steve at Fortes and I would recommend them to anyone building an FFR. Mark Reynolds at Breeze is also a neighbor (just 10 miles down the road), and was another quality supplier. Mark supplied many parts for my build (ez-fuel, oil pan, hidden trunk hinges, quick release wheel, side mirror and many other small parts) and he is also great to deal with.
How can it take six years to build a car? Well for two and one half of those years, this car could not be registered! In October of 2008, Massachusetts outlawed crate motors in kit cars and replicas. They began to enforce the federal standards, and only a complete donor drive train was allowed. It took two years of effort by a great group of car hobbyists in MA to fix this. I got to make a trip to the state house with Dave Smith, Joe Leone, Mark Reynolds, and some others as part of the process to change the rules. During this time I realized that I could not spend a fortune painting a car that could not be registered. I decided to do the bodywork myself, while we waited for the legislative changes. This turned into an 18 month journey of discovery, and I appreciate all the help the Forum gave me along the way. I want to especially thank Jon A and STL Scott for their great bodywork threads. I could not have done this without their excellent examples. I also want to thank Rocky, at Rocky's Auto body in Norfolk for working with me. Rocky was willing to spray my bodywork, and he did a great job laying down the paint.
In May of 2011, the new rules we pushed for went into effect, and I had a one year window to register the car. As a bonus, the roadster would be emissions exempt forever and this exemption is transferable to the next owner (not that I'm selling anytime soon). I pushed through the last of the paint this summer and started the registration process in November. On January 7th 2012, I passed my last inspection, and got my final inspection sticker. As a bonus, I managed to move my old green license plate off my pickup, and onto the roadster. This is the only way to legally run one plate in MA, and I am really happy to avoid the whole front plate issue.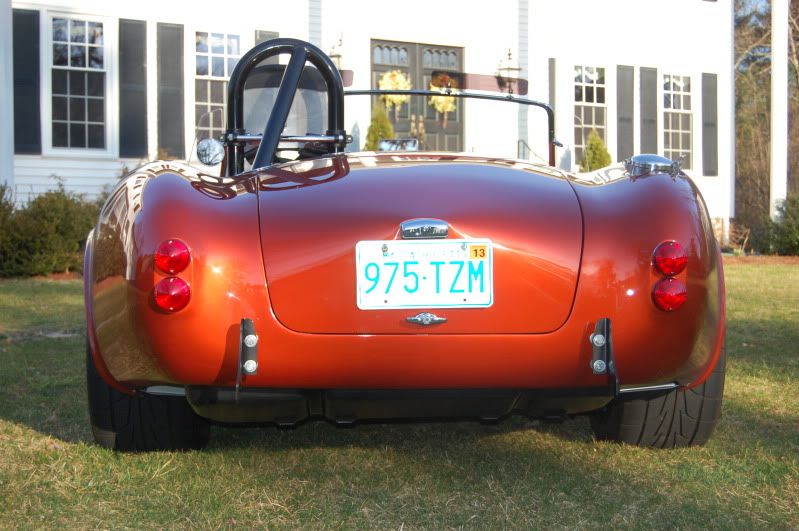 Here are the build details:
FFR MK III Roadster - #5385, picked up 03/25/2006
This is a non-donor 3-link small block build.
Powdercoated frame
Factory body cutouts
FFR Hood hinge
FFR AFCO radiator
FFR 4 into 4 headers
Coolflex steel radiator hoses
New Ford 8.8 rear end – 3.55 ratio
Autometer Ultralight gauges, 5 inch Speedo and Tach
Powdercoated 13" front /11.3 " rear inch cobra four wheel disks (black calipers, silver rotors
Braided Stainless brake lines
Plug in dash on AAW harness. All lights on relays and wired with Weatherpack connectors
Powdercoated engine bay panels - Chrome silver with black rivets
Tunnel mount Lokar e-brake with leverage producing linkage
Custom mechanical throttle linkage
Hella Horns
Custom stainless mesh radiator protector
Breeze steel seat mounts
Kirkey Pro-Drag driver's seat
Breeze front mounted battery box with type 51 battery
Breeze Radiator support
Breeze hidden trunk hinges
Breeze fuel tank, pickup, AN6 compression fitting
Breeze (Dream Cars) side view mirror
Forte front sway bar
Large dead pedal box with foot mounted dimmer switch.
Finishline roll bar seatbelt mount
Finishline body louvers painted body color
Fat Mat insulation in cockpit and trunk
255 X 17 Nitto 555 fronts on 17x9 black ff500 wheels
315 X 17 Nitto drag radials on 17/10.5 black ff500 wheels
Drive train
New 302 crate from Forte.
Edelbrock intake
Holley street avenger 570 (tuned by Forte in my driveway!)
Carter mechanical fuel pump
Forte pulley setup
Standard rotation water pump
Breeze (Canton) Oil pan
Powermaster alternator
Powermaster starter
Braded stainless dual feed fuel line with pressure gauge
MSD 6AL
MSD plug wires
Ford chrome air filter
New Tremec 5 speed with Stedda shifter
Forte drive shaft
Forte drive shaft safety hoop
Canton 2 quart aluminum recirculation tank
Cobra Earl thermostat setup with Jegs filler and braided stainless bypass hose.
Mike Everson trim rings for roll bar and belts
Essex wool carpets with Fat Mat
Body
Painted Ford Blazing Copper Metallic / Orange Pearl Metallic (code GW)
Hidden body mounts
Hidden trunk hinges
Drop Butt
Expanded tail light pads
Hood scoop extension
Rolled body edges (cockpit and fenders)
So enough talking – Here are the graduation pics!