Discussion Starter
•
#1
•
I know that cup holders, midshifts, and glove boxes have been beat to death, but .........................
Built in 2002, this car will never be "done", and in this case, one thing led to another, and another, and another. This was just like other projects have gone, and either you have already been there, or you will be there. It's just a matter of time. You know who you are.
A few months ago,
Fordolet
posted about Modern Drivelines mid shift T5 conversion, and I jumped on it.
Then I had to redo the trans cover because of the relocated shifter.
Then I decided that this would be a good time to add a glove box where the old shifter was previously located. And after a few 12 ounce memory stimulators, (Some of my best plans have involved beer ). I came up with a baking pan from amazom. At 7W x 11L x 3D , it fit reasonably well into the space available.
Nukemmc
gets the credit for locating and posting about the VW latch.
Then, since my car is a very late MK1, or very early MK2 ( a MK 1.5 for those who remember that period), and since I do not have the backbone bracing, I thought that this would be a good time to add a removable brace. Removable, because I may need to pull the transmission someday again, and pulling the trans from the top, through the interior is much easier that trying to wrestle it out the bottom.
Then, I decided I might as well add cup holders and a cell phone holder. I had basically hit a mental block until
Keysergogo
posted about his magnetic holders. Instantly, I knew it was the answer for my problem. It is a very clean and do-able solution with perfect timing for my situation. The 1/8 steel plate is the entire area forward of the shift bezel, and the lid of the glove box. Magnets are 2 inch x 1/4 inch with a 55 lb pull. Thankfully I still have some of the carpet left over from when I had the interior redone. The magnets work great.
As it was from 2002-2016
[/URL][/IMG]
One advantage of an early car. Can't do this with later mk's
[/URL][/IMG]
This time around, removeable bracing was added.
[/URL][/IMG]
I was fortunate to find this baking pan to use for the glove box , It is thick enough so that I was able to flatten out the rolled edges to make a better lip to bolt to the underside of the cover. It is 7"Wide, 11" Long, and 3" Deep
[/URL][/IMG]
1/8 inch steel is in the entire area forward of the trim ring and also the glove box lid. having both steel area gives me more options about where to place my cups or the cell phone.
[/URL][/IMG]
1/4 inch MDF was used to level out the top of the trans cover and hide the mounting bolts for the glove box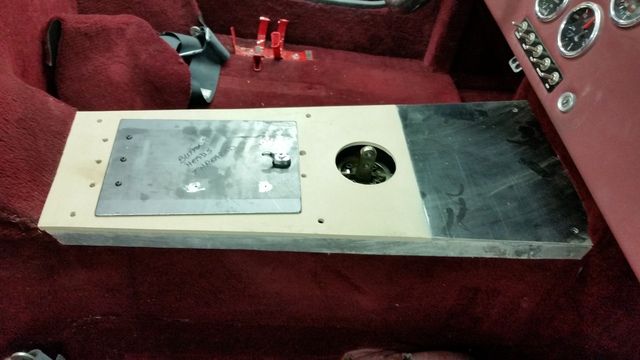 Cellholder is ABS with smaller magnet than the cup holders Steel shielding is used between magnet and ABS to help prevent the magnetic field from messing with the phone. If the same magnet as the cup holder were to be used, the pull force between the two steel plates would be in the neighborhood of 200-250 lbs. I am still experimenting with different magnets for the cell holder.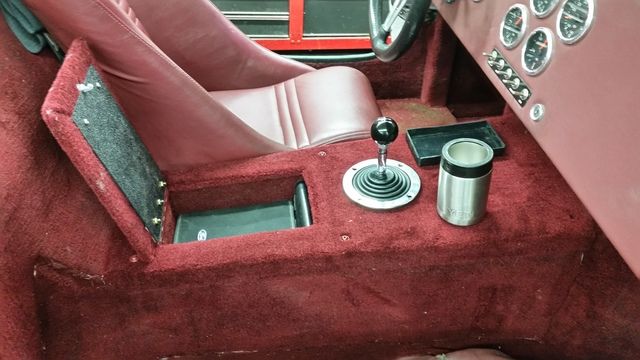 The final result, as it is today
[/URL][/IMG]
The end result is a midshifted T5, with a removable trans tunnel cover, removable bracing, a locking glove box, and magnetic cup / cell phone holders.
Special thanks to those who have posted their ideas so that I could come up with this project.