Super excited!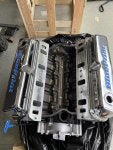 After going round and round on whether to build a junkyard motor or get a crate motor, I found a Blueprint 408 stroker long block in stock and snagged it. It's the 450HP 351 windsor based 408 stroker with a roller cam. I probably should have bought a fully dressed motor, but having heard they were hard to find as of late I thought it made sense to grab what was available.
So now I have the fun of finishing it off, but I wanted to ask the experts and people experienced with builds their opinions on the parts I need. I plan to go the Tremec TKX route. The motor doesn't have an intake and is externally balanced, which I believe means I need a 28oz harmonic balancer and 28oz flywheel.
One route would be to order the recommended parts from Blueprint. Though they no longer have an intake manifold available and the harmonic balancer is out of stock.
Here's the motor page and the recommended parts:
BluePrint Engines 408CI Stroker Crate Engine | Small Block Ford Style | Longblock | Aluminum Heads | Forged Pistons | Roller Cam
My objective is to have a nice solid motor, not flashy (no chrome), I lean toward an original look or race motor rather than flash. Of course, I'd rather not break the bank so keeping expense low is a plus.
Harmonic balancer:
No real idea here, but I did notice I need to know whether it is a 3 or 4 bolt when it comes to ordering the pully.
Intake manifold:
Blueprint tech suggested Weiand Stealth. I've heard people talk about the Edelbrock air gap, they seem hard to get and some people say there is a concern with hood clearance and maybe they lack a waterflow between the heads? Stealth a good intake to go with? Price seems good.
Intake gasket:
Any one better than another here?
Fuel delivery:
I guess I'm sold on EFI and I was thinking of ordering the Holley Sniper. I'm finishing a complete kit that was started, it has rubber lines that I'm concerned with as they say not for EFI use on them. I'll create a separate thread about this, but I ordered 3/8" stainless lines and plan to redo the lines. Pump or hanger was already updated.
Air Cleaner:
I saw somewhere an air cleaner that allowed air in from the top as well. I thought I might go with that and maybe fabricate an aluminum type turkey pan resembling the old 427 setup.
Oil:
Figured I'd order the BluePrint break in oil
Filter:
Not sure, Ford F1-A?
Spark Plugs:
BluePrint suggests NGK 7938 BKR5E
Spark Plug Wires:
???
Distributor:
roller cam so needs a special steel gear, besides that, I'm really not sure what I get for extra money. Top RPM will be 6K.
Water pump:
Not sure other than driver side inlet to match radiator. I guess direction depends on pulleys used? Aluminum for sure, just not sure if there is a suggested one like Milidon high volume and whether I might get into problems with different spacing that might affect pulley alignment.
Oil Pan:
I wanted a road-race oil pan, so I ordered a Canton 15-630. Not sure if it's the right pan. I still need to order the pickup. I figured I'd need the 15-661 pickup.
Oil Pan Gasket:
Mahle? Canton? Any one better than the other?
Pulley system and accessories....
I have a power rack, so I'll need a power steering pump and alternator. Do I need a system that mounts the alternator up high? Looks like v-belt might be a little less expensive? That would be fine as it looks a bit more original than a serpentine belt.
I prefer brushed aluminum look. Some of the brackets look like they are trying to be artsy, I like the more utilitarian look but not so much they look homemade. Who knew brackets could be such a tough decision and somewhat expensive.
Should I just ala-carte the March pulleys and brackets and get a power steering pump and alternator from Rock Auto or elsewhere?
Alternator:
anything special to look for or get? 100 amp? one wire?
Power Steering Pump:
Saginaw pump rather than later model Ford plastic?
Valve Covers:
I'd like to get CShelby, Cobra or maybe 427 valve covers.
Overflow tank:
It think it would be cool to have an original style overflow tank for an original look, but I'm not sure on their cost or if they are problematic. Hmm. $329?
Cobra Replica Coolent Overflow Tank
I suppose this could be something added later to keep expense now to a minimum. I need to focus on completing the kit.
I know that's a lot for one thread, and sorry if this has been discussed a bunch of times.
Any suggestions would be appreciated.
Thanks!