Discussion Starter
·
#1
·
Presenting FFR MK III 1004840 for graduation.
Here is a video diary of the build process up to the point it went down for paint:
http://www.youtube.com/watch?v=IT5rWd8Kfj4
Here is an in-car video - leaving from the Speedway gathering point and heading into London, OH for the 2007 London Cobra Show:
http://www.youtube.com/watch?v=blFACTIFczA
Car was ordered on 4/9/2005 and delivered by Stewart Transport on 5/12/2005. It was road worthy late October 2006. I put just over 200 miles on in gel coat before it was shipped down to NCPainter. Final inspection and plate was done just before the London Cobra Show in June 2007.
This is a non-donor build with little attention paid to budget (so say my wife and parents).
A few key highlights about the components of the build:
* Pin drive width front/rear
* IRS with a 3.55
* SN95 Cobra R brakes; 13" front 11" back
* Team III 1/2 polished wheels with BFG 245/45/17 and 315/35/17 tires
* Leather seats, carbon fiber console
* Heater, wipers, heated seats, Lizard Skin
* Whitbys soft top, FFR tonneau cover
* Power steering and power brakes via an '04 PS rack, hydraboost, and M/C
* Engine Factory - 351W stroked to 393
* Tremec TKO 600 with mid-shift using a Pro 5.0 shifter
* FFMetal Grand Slam
* Custom blended Lexus blue mica with a custom matching GM arctic white mica mix
My objectives for the build were to:
* Build an FFR that met or exceeded a Superformance in quality, fit & finish, and drivability
* Follow a slightly updated take on the pure classic while staying as true to the original as possible in theme
* Apply custom touches only in keeping with the two tenants outlined above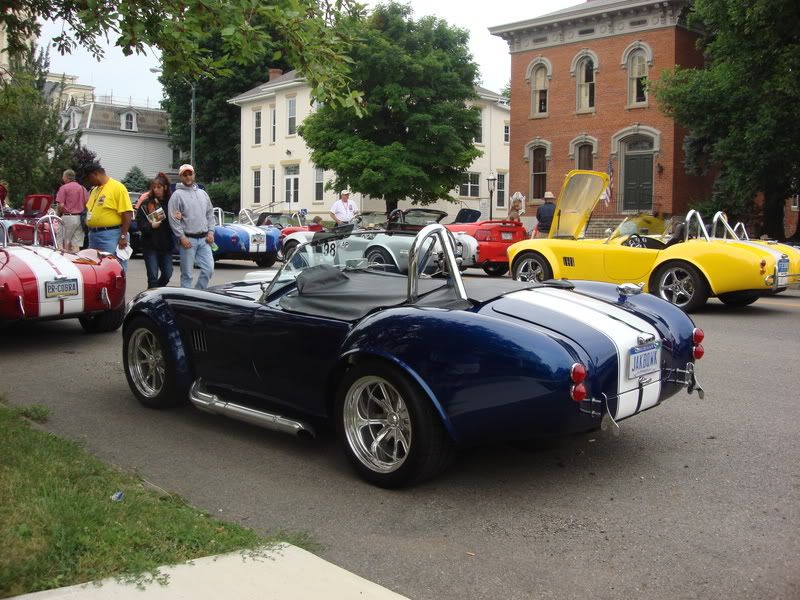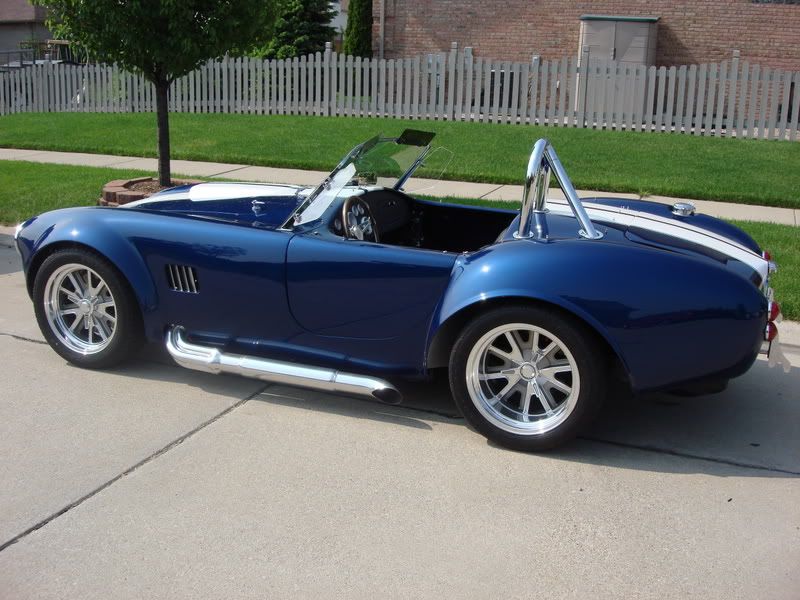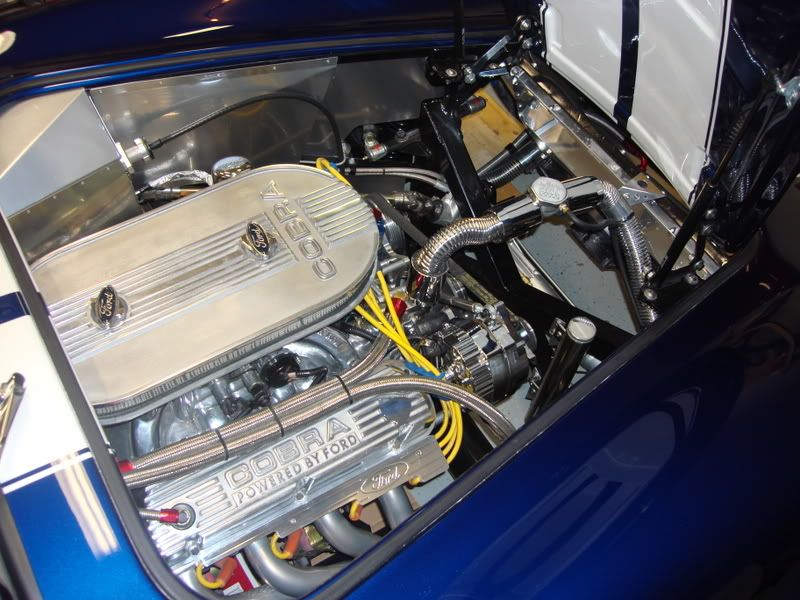 Follow-on work:
* Badges
* Carbon fiber dash to match the trans cover
* Some additional polished aluminum pieces under the hood and trunk
* Minor interior work here and there
* Polished SS side pipes
What I would do differently:
* Not worry about a stupid Wilwood brake proportioning valve for the rear brakes!
* Extend the passenger footbox even more
* DarkWaters style dead pedal vs. the custom one
* Trunk expansion mod
* Big block
Vendors of note who supplied parts, expertise, and assistance:
* Breeze Automotive
* Diskbrakes R Us
* Engine Factory
* Factory Five Racing
* FFMetal
* Finish Line
* Five Star Ford
* Fortes
* Midwest Cobra
* Mustang Parts Specialists
* NC Painter
* North Race Cars
* Rich's Classic Transport
* Stewart Transport
* Whitbys
Special thanks go to –
My wife and daughter for putting up with all of this!
My wife's family who for the longest time thought I was using "building the cobra" as an excuse to miss all those family functions.
My dad for helping me through out the build.
And in memory of my mother who passed away before she could see the painted and completed car in person.
And lastly –
FFCARS
without which I could have never reached such levels of frustration, spending, and quality of build!
Thank you,
Dean R. Paquette (aka JackBeQuick)