Discussion Starter
·
#1
·
I read a lot on the subject and wanted to make sure mine fit properly and worked right.
1) I did not like how the inner metal sleeve was not the exact width of the ears, but I understand why since the kit has to acccept the donor LCA's as well.
2) The washers are really spacers so you need to make sure there are no gaps after final assembly
3) Make sure ears pinch the sleeve and remain parallel
4)Grease appropriately
IT COST ME $50 TO GET MINE 100% RIGHT BECAUSE I BOUGHT A 1 TON ARBOR PRESS AT HARBOR FREIGHT....AND SOME "SPECIALTY WASHERS" AT ACE HARDWARE. I read a lot on the subject and would not have been happy unless i pulled the apart to "see for myself"
Left Side LCA : Left side of arm fit perfect. Right side of arm required the factory washer(spacer)
Right Side LCA : Right side of arm needed a washer(spacer) HALF the thickness of the one that came with the kit, Left side of arm needed factory washer.
Hard part was to find the correct thickness and size washer....but I did at ACE Hardware. The one I go to has an extensive fastener section. In an area not by the regular grade 8 stuff there was a set of washers labeled "machine bushings" They look just like the washers that came with the kit and are the same material, however, they have two thicknesses of each washer of the same size.
This is how I made the perfect washer to fit the smaller gaps and make them fit right and have the rubber bushing rotate properly around the metal inner sleeve as designed.
I used TWO WASHERS to make ONE THINNER SPACER (Smaller one fits right inside bigger one)
I did pull the LCA's apart, grease them by hand, and re-press the sleeve back in so it was centered and not sticking out either side of the rubber part of the bushing.
FINAL FIT with my ACE HARDWARE WASHER(SPACER) SETUP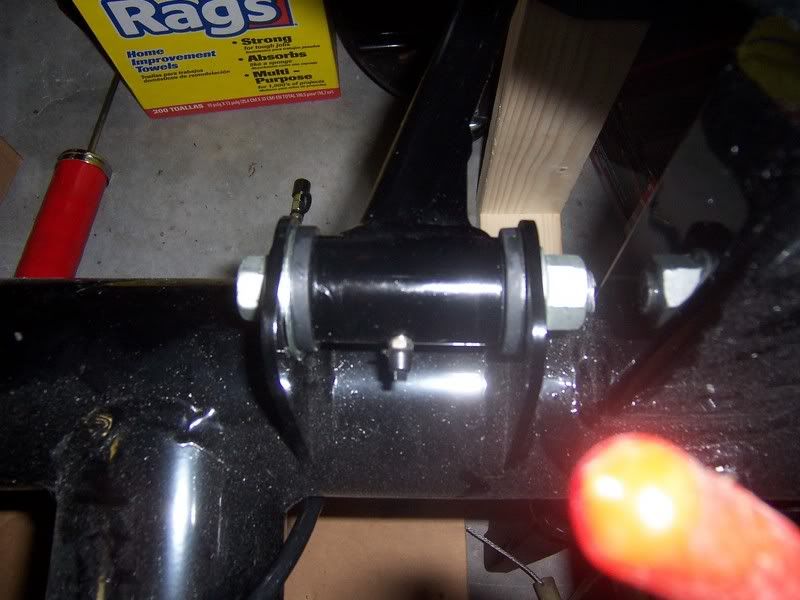 Cheap ($0.40 for the large washer, $0.35 for the small washer)and they move pretty smoothly
If already had a press, would have cost me less than $2.00 to get the fit 100% right.