Discussion Starter
·
#1
·
My son is home on leave this week before he starts his third tour in Iraq. We have been doing a huge push to get the Cobra fired up while he is back here. We wired up the minimum gauges, temp and oil pressure. Threw out the AAW wiring diagram and finally wired the MSD box and ignition switch. After filling the fuel bowls we gave it it's first shot and low and behold it kicked right over!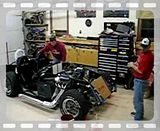 We had to make several attempts priming the carb bowls before we actually had enough fuel in the lines to sustain running. After the batteries run down on the camera we actually had it running at a nice idle. Sorry no video of that part of the evening.
Yes we did open the garage door.
Now a video of it actually running! Thanks again guys!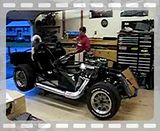 We still have a huge amount of wiring to do and bleed the brakes then I think we just might have a go-kart!
Thanks so much for all of your help on the forum to get to this point.
This was a huge step forward. Thanks!
Mike M.
[ April 17, 2007, 07:54 PM: Message edited by: Huckleberry5 ]