Discussion Starter
·
#1
·
FFR-5355 MK-III.
My son & I picked up the kit 18-Mar-2006, registered & driving (in gel coat) July-2006, disassembled-rebuilt-painted & Graduated Feb-2007.
Special Thanks to:
My wife Lorraine, George DeSantis, Rick O'brien, 5.8 Cobra, Redfish, Iski, Splitfinger, Tom Hardin, Mustang CDJ, Mark Reid, Paddles, and of course Bill for the great forum.
Paint by:
Pete's Restoration, Danbury CT. (Dodge Patriot Blue - B7 / WB7, Arctic White stripes)
Drive train by:
Mike Forte
[/IMG]
[/IMG]
[/IMG]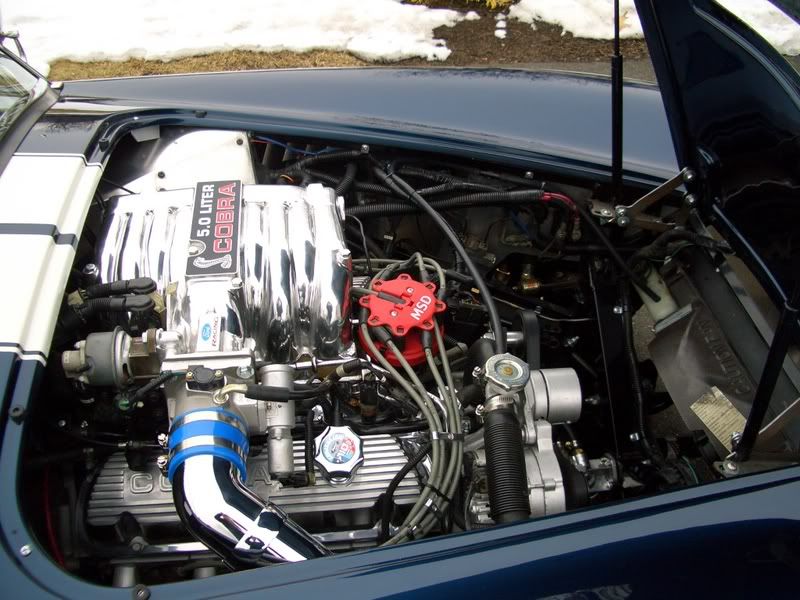 [/IMG]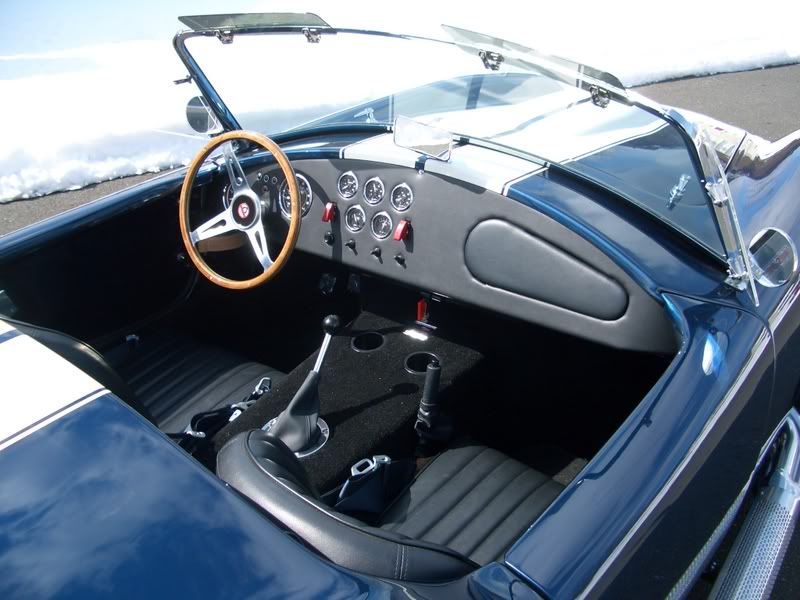 [/IMG]
The build started off as a standard donor build, however, as I progressed almost all of the donor parts were replaced with new. The only donor parts that remain are:
· Wiring Harness (computer)
· Front spindles
· Engine block, pistons & crank shaft
· Pedal box
· Headlight & signal switches
· Master cylinder & booster
The Details:
5.0L EFI (1989) – Complete Rebuild (300+ HP)
· Edelbrock Performer Heads
· Ford Racing Cobra Intake
· Ford Racing B303 Cam
· BBK 65mm Throttle body
· BBK Headers
· Cold Air Intake
· Emissions Delete
Borg Warner T5 Transmission (new)
8.8 inch differential, 3.73:1 Ratio (new)
5-lug conversion
Powder Coated Frame
FFR 3-link rear suspension
Coil-over shocks
Manual 15:1 Steering rack
Power Brakes
FFR Front Lower control arms
Ceramic Coated side pipes, w/ heat shields
Chrome plated driver's roll bar
Autometer Vintage gage package
Bullet Wheels (Anthrocite)
FFR Hood Hinge
Over-Riders
Wind Wings & Sun Visors
Southern Rods Heater
Custom Glove compartment
AM/FM/CD - 6 speaker stereo
Dual Peep Mirrors
Back-up Light (Mini Cooper Style)
Single Wiper (driver side)
5-lug conversion (Lincoln rotors)
Tonneau Cover (Snapless)
Thanks for all the help.
Doug
[ March 18, 2007, 01:46 PM: Message edited by: dhungerf - BLUE II ]