Discussion Starter
·
#1
·
Not long ago some one here asked how they patch or fill a hole on the dash. I remember some of the answers were: Pop rivit a patch on, (could leave bumps under the dash material; Buy a new dash, ($$) I didn't really like either of those options but didn't give it much thought because I'd never drill the hole in the wrong place, right?
Well of all the stupid things I've done I added another to the list again last night. What did dad always say about measure twice and cut once? I drilled the hole for the engine start switch where it directly interferes with the fuse block behind the dash.
After I chewed out the dog for letting me do such a thing I started looking at options. The hole was too big to be used for a switch so I had to do something. I started by drilling the hole for the start switch where it should have been in the first place. I cut a patch plug that came pretty close to filling the old hole and then cut a backing plate to go behind the dash.
I drilled some holes for flush aircraft rivets. I don't think this step would be necessary but I had the rivets and haven't had the aircraft rivet gun out in quite a while. Then I scuffed up the surfaces with some 36 grit on a wizzer wheel preping it for epoxy.
I mixed up a little epoxy smeared it on and held things in place with some clecos. I think JB Weld from a hardware store would work just as well. I put in the round plug that I had cut and held that in with a clamp. Let it set overnight and came back this morning to finish the job.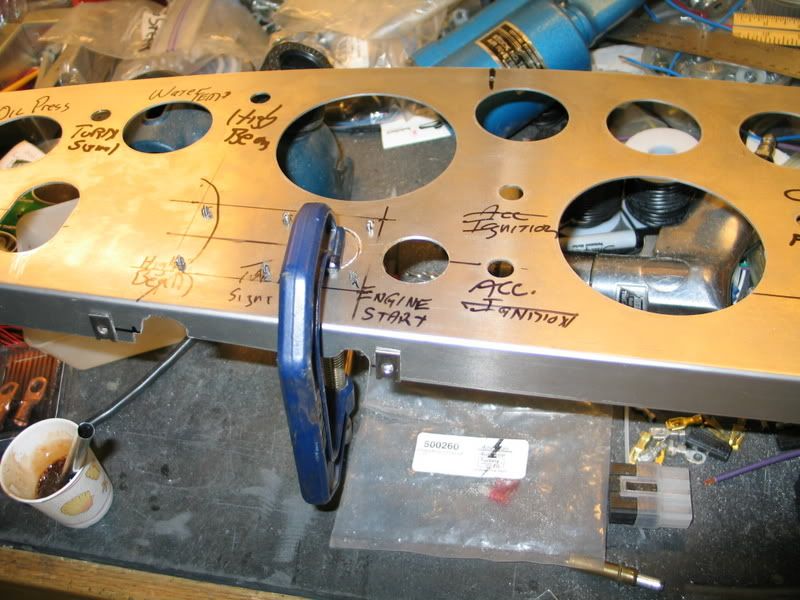 This morning I beveled the holes for the flush rivets. Again, I don't think this would have been necessary but I added the rivets because I had them. I scuffed everything up with the 36 grit again getting ready for a light coat of body filler.
After a quick sanding I had a pretty smooth solid dash again.
Now I could finish drilling holes where I should have in the first place.
When this comes up again, and I'm sure it will, I hope somebody else doesn't have to admit to a stupid mistake and can find this searching in the archives. I'm not proud. Hmmm, I wonder what I can screw up tonight?
Mike M.