Discussion Starter
•
#1
•
Well, we are ready to take orders for the custom aluminum fuel cells that we brought up in this thread:
http://www.ffcars.com/forums/showthread.php?t=243799
Here they are: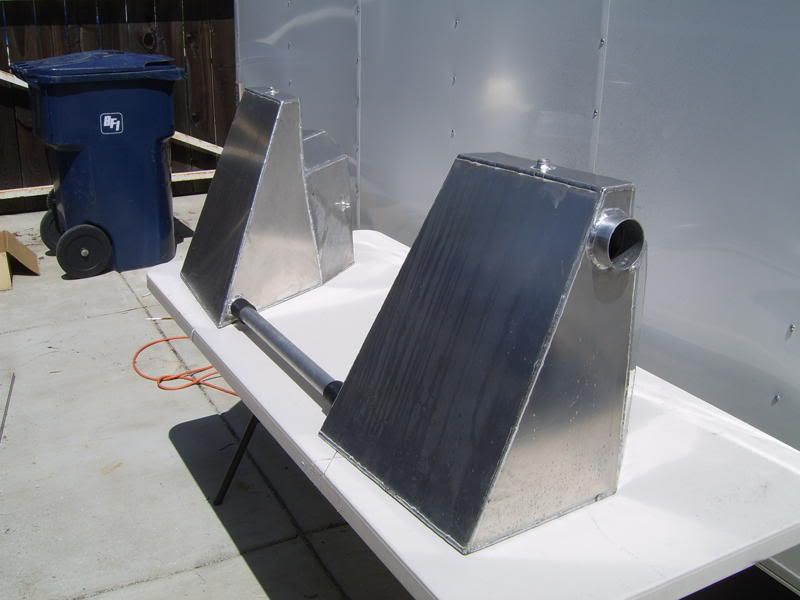 The bottom of the tanks are connected with a 1.5" cross-over tube, so this should make for very quick filling of both tanks from one side of the car. Each tank has an AN -8 fitting welded in to act as a pick-up/return port. Each tank has a 1/4" NPT female fitting welded to the top to use for a vent-line port. This gives you the option of venting the tank as you see fit....you can run both tank vents together to a single roll-over valve or whatever you choose.
Total capacity is 21 gallons, and the tanks sit level in the chassis, so my guess is that you're going to gain at least 3 gallon over the 'Vette tanks, since the 'vette tanks do not sit level, and the cross-over tube is at the bottom of both tanks instead of up an inch-or-so from the bottom.
Tanks include cross-over tube, collars to connect the crossover tube to each tank, hose clamps for the cross-over tube, both tanks and the fuel sender. Once again, these do not include the fuel pump, as they are designed to use an aftermarket, external pump.
Price is $1175 + Shipping. If you'd like to order, I would prefer that you visit my website, go to "Contact" and send me an email to that address. This way, I'll have your email address on record in case I need to contact you. Lead time on these will be approx 1 month. Thanks!!