·
1st RFM/FFR Legacy Winner
Discussion Starter
·
#1
·
I just got home from the longest road trip to date, two 340 miles drives and many side trips over 6 days through TN, KY, OH and IN. The car has over 2K miles now and has yet to see rain. Here's what I've learned:
1. Reliability - The car worked flawlessly. Engine temp stayed below 90C even with the AC on in heavy traffic. No leaks, and no parts fell off anywhere. No vibrations, power is smooth, abundant, and always there. I couldn't be happier.
2. Gas mileage - 19-21 driving 70 or less even with frequent stoplights in the small towns. Achieved 200 mile crusing range by the time the guage dipped just below 1/4 tank. 10 gallons filled it.
3. Comfort - Very nice. No cramping or feeling contorted. A body stretch was welcome after 4 hours and 200 miles between fill-ups. No noticable engine heat in the cockpit. Earplugs, OMG what a difference they make on a long trip. I could hear the birds singing when I stopped!
4. Performance - Road curves could be taken at 15 mph over the posted speed without feeling unsafe. The car ran great in 5th at speeds over 50 mph (1500 rpm, 3.08 rear). 95% of all two lane passing was done in 4th from between 50 to 80 mph. Moderate grades were handled in 5th gear as long as my speed stayed over 60 mph. The speedo read 3 mph too slow at 70 referenced to GPS.
5. Ride quality - Firm but not harsh. No rattles or flexing. I bottomed out the rear shocks at least twice on hard bridge/road transitions. The DIY bump stops in the Bilstein shock hats cushioned the blows. I don't think the front suspension ever bottomed. Ride height is set at 4.5 front and 4.75 rear.
6. What other people did - WOW they love this car. Countless complements, good comments, looks, waves, thumbs-up, smiles, honks, shouts. I did a small (my first) burn out, giving in to the many requests while passing through the small towns.
7. Superformance - I stopped at the SPF dealer in Ross OH to check out their cars. The saleman was nice considering I had an FFR in his parking lot. He took me into the shop where they had 14 engineless cars waiting for their owners. SPF's have some nice bodywork but nothing over my FFR. When I was returning to the parking lot I noticed a family looking at my car and the SPF next to it. I heard the woman say, "Honey, I think this must be a real one" referring to my car. The husband was not sure. I told them it was an FFR and they seemed surprised and ask if I was sure. I said, yes I built it over the course of 2.8 years. We parted as friends.
8. Close calls and damage while driving - None really. One old guy changed into my lane but I was in his blind spot. Almost hit 3 different species of birds. Got my first rock chip under the parking light. It's smaller that a pin head and easily touched up.
9. Summary - one of the best times I have ever had driving anything. The wife and I felt the time flew by and we were sorry we reached or destination that quickly. It took 2 hours more than driving the interstate but that was 2 hours of extra fun. I prefer the FFR perky butt and round tail lamps. While the SPF's 15" 60's fill the wheel wells vertically, a set of 275's and 315's with the right ride height, really plump them out fore and aft and look very nice from the side as well.
Original thread:
http://www.ffcars.com/ubb/ultimatebb.php/ubb/get_topic/f/1/t/092324/p/1.html#000000
Pics:
At Superformance in Ross OH
Covered bridge in Guilford IN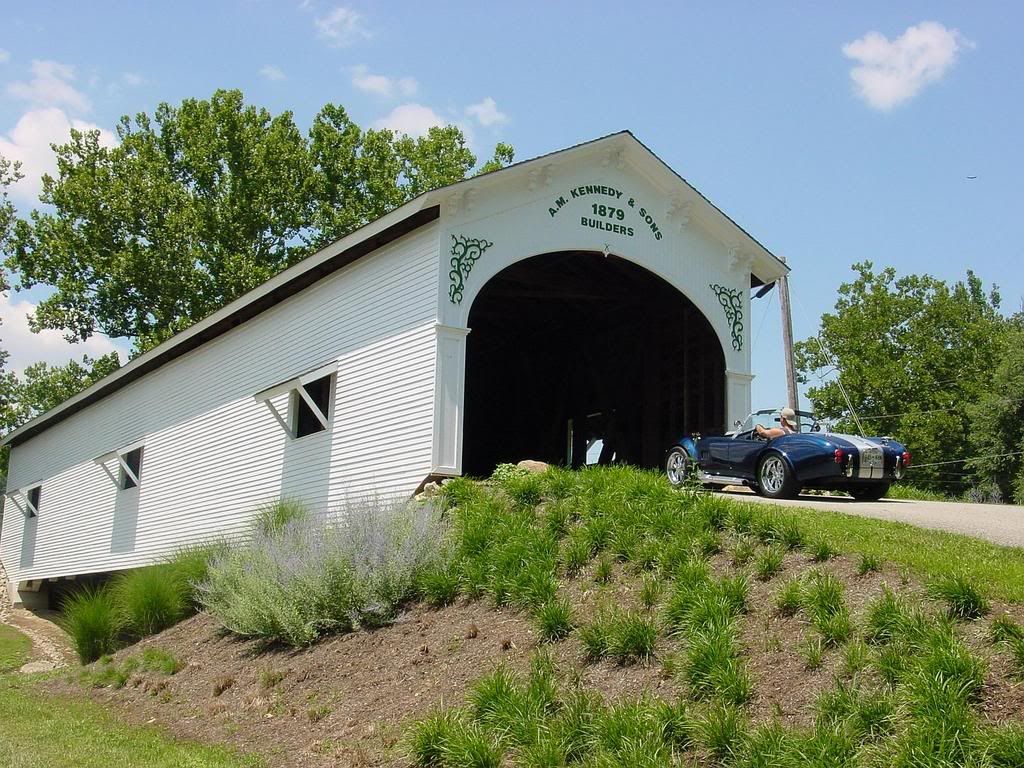 Ready for the July 4th parade in Lawrenceburg IN
Greg
[ July 08, 2007, 07:01 PM: Message edited by: Greg_M ]