Discussion Starter
•
#1
•
So a while back Chris (CJBergquist) posted about his install of Curb Alert. I knew I would be getting one since I know I will scrape my nose at some point and the thought keeps me up at night.
I was online the other day since its about time I pull the trigger and I run across these back up sensor systems that sell for ~$16 shipped free with Prime. I figure for $16 vs $150 for curb alert its something I gotta try.
Amazon.com : Esky LED Display Car Vehicle Reverse Backup Radar System with 4 Parking Sensors : Electronics
So i get it yesterday and I must say for the price its impressively packaged including a 22mm hole saw for the sensors.
I get into nerd mode and immediately wire it up in the kitchen but realize without it being a bit mobile I cant really test it. This morning I make mounts for the sensors and rig the whole thing up on my jack so I can also vary the height and here it is.
Its a mess but it works :nerd: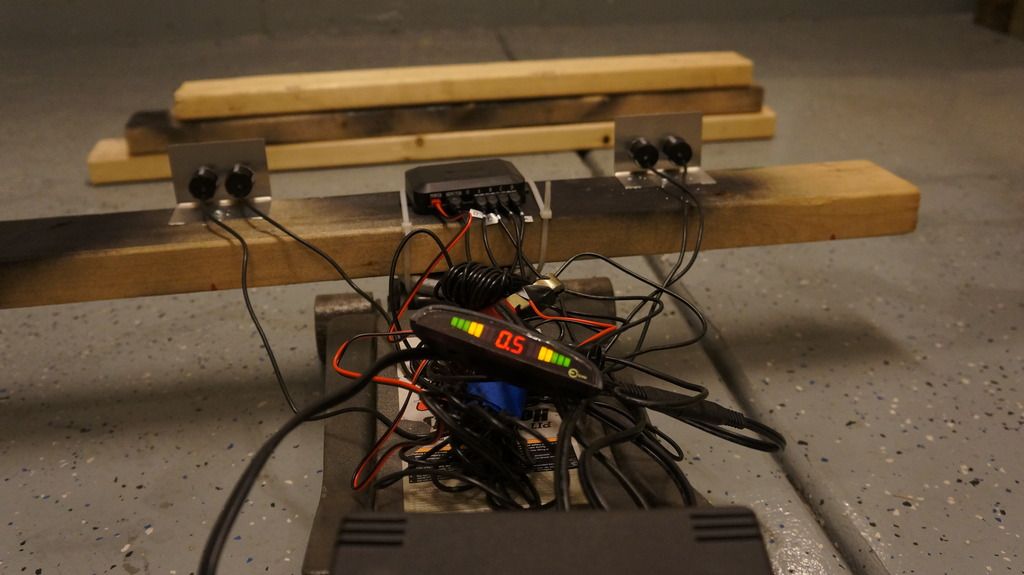 I also checked how it does with a blockage on one side and its pretty good.
I also made a quick movie to see how it operates. It reads out in meters FYI.
https://youtu.be/19i0KVhVxuU
I also repeated the test with just a broom in the way and it worked just as well. it did fluctuate a bit more and dropped low here and there but good enough that it would stop me from moving forward.
SUMMARY
I think it is a viable option for a nose curb alerting solution. The sensors work great. It would be much better to install all 4 of them spread out but that is not how I am going to install them so I wanted to test them this way. I did test to see if you could offset them back under the nose a bit without the nose interfering and it seems like that should work. The signal the sensors are sending out seems to go fairly straight out so an obstruction right above or below them is fine. I will share a bit more once I get my car back from paint and put it on.
Also, the sensors all work independently so you could install 1 2 3 or 4 of them. Granted each one ends up signaling the right or left LEDs. I did have one come not working so I will be contacting them for a replacement. I just unplugged it and the system kept working fine.
My plan would be to wire it to a switch I can turn on and off and hide the Indicator under the dash or on the side of the tranny tunnel. You can also turn the aural warning off with a switch on the indicator.