Can I Heli-coil an Engine Mount Hole? Update: Problem Solved
OK guys, I need some help. I tried to replace my (perfectly good) donor engine mounts with some Poly Mounts today. The last bolt wouldn't torque down and the threads seemed stripped. The weird part is there were no threads on the bolt or other signs of a recent strip. I am wondering if I didn't have it tightened down enough when I go-carted in the Fall?!?
Or if it was that way in the donor and I just didn't know it?
I guess at this point the cause doesn't really matter. I just need to fix it. So... my question is, can I use a heli-coil in the engine mount hole on the block? If so, is there a suggested size for this application? The bolt appears to be an M10 1.50. Can this be done with the engine in the car (supported from the top with a hoist)? I have never used a heli-coil... any tips?
As you can see, the stripped hole looks (and is) bigger. I can thread a bolt in by hand 3/4 of the way and then just pull it straight out! Yikes!
PLEASE tell me I can fix this without pulling the motor!!
In this pic, it looks to me like there is a broken heli-coil in the hole already. If so, can it be extracted or do I just drill it out?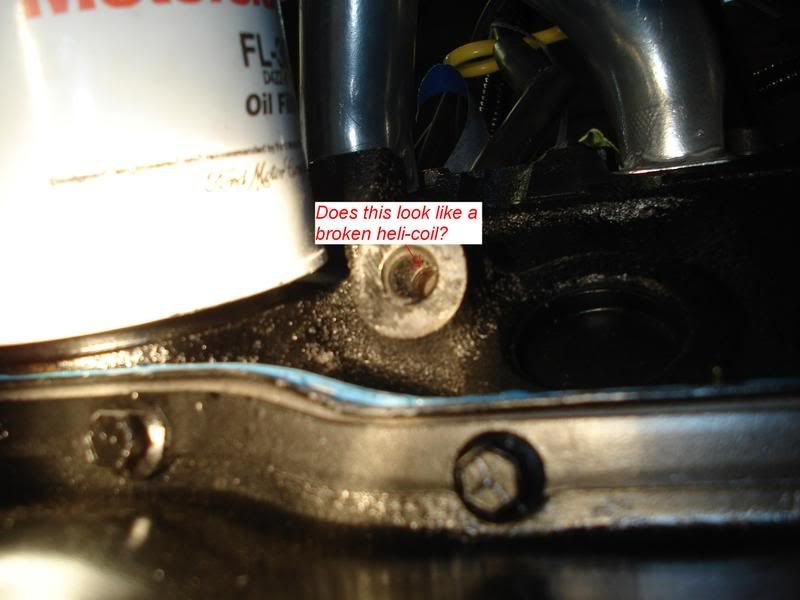 Any help would be greatly appreciated, I am not at all happy with this set-back!
Thanks in advance!!
-Jon A.