(re-posting from my build thread)
I had been looking for side pipe mufflers for some time. The noise level has always been an issue for me. I wasnt willing to spend the $$ on mufflers and then have the packing blow out and have to go through the process of cutting out the glass pack and starting over again. The plan was to go with a rebuildable muffler. The only one I was aware of, was made by Burns Stainless, but the pair of mufflers ranges from $900-1200. I had a friend with them and they worked incredibly well... and rebuilding was easy enough from what I found. The price was keeping me from making the jump. I had even considered making mine rebuildable.
I was literally a day away from spending $1200 on rebuild-able Burns Stainless mufflers when I found the new Flowmaster 13530320 Slimeline. We heard about them at SEMA a few years ago, but no one at the booth knew anything about them. Searching their web site netted nothing as well. Before making that last call to Burns, I decided to do one more search and found a few discussions online, including here along with a part number. Tennessee Tim installed them and it appeared he was pretty happy. With that, I was ready to take a chance on them.
https://www.youtube.com/watch?v=Xuww8Yjyzsk
https://www.youtube.com/watch?v=HlDiQkWNhIY
They are SS, have no packing to burn out and have a lifetime warranty and at $209 each they are fairly priced. From what I gathered they are very effective at taking the sharp tone out of the exhaust which is what we need. I had to wear ear plugs with the FFR pipes, and even then my ears rang after driving the car.
They have an added benefit of having a special insulation that really cuts down on the heat of the outer shell. Anyone that has had a "cobra bite" and the resulting lifetime scar understand the importance of this.
So on with the install:
Made up a support to get the new mufflers in the exact spot desired.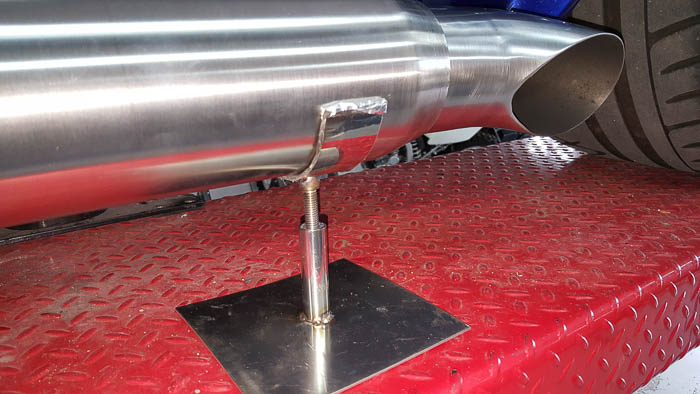 After welding them up. It was a bit tough as the fit-up wasnt as tight as one would prefer.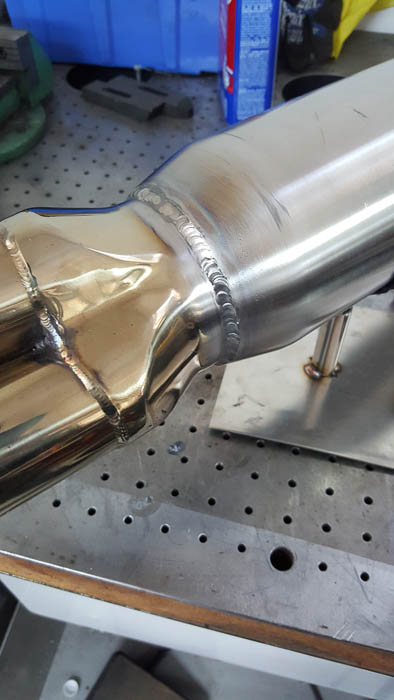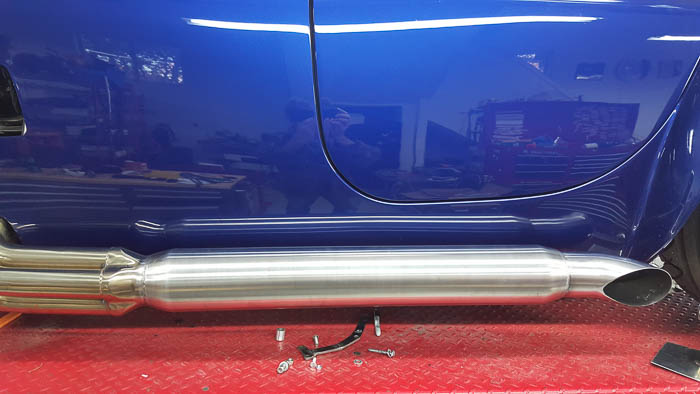 Ive had the oppty to put maybe 300 miles on the car since installing the new mufflers and Im really happy with the change. As mentioned before, earplugs were a must, and even then my ears were sore. After the new mufflers, I havent worn them and my ears dont hurt
The sound is just perfect to me. Still sounds like a cobra but without the sharpness.
Against my better judgement, after coming back from a spirited drive I decided to try to quickly touch a pipe where your leg would contact it. First quick tap... wow, no skin left on the pipe... tried a bit longer, then longer still... and no burn. Yes its still hot and I dont know if I could leave my hand on it for more than a second, but its cool enough for your brain to register and tell your leg to move it before getting a 2nd degree burn. This alone is worth the price of entry.
The only drawback to these pipes is they are fairly heavy. If you are really concerned with weight, then the Burns are probably a better bet.
Overall, I couldn't be happier and I have several friends that are buying them as well once they heard them on my car.
Appearance wise, I think they look much much better than the normal sized glass pack. I was a bit worried that they would be to big looking, but after installing them, I like the looks better.
David