Discussion Starter
·
#1
·
For all of you thinking about building (like you Scott) let me encourage you with a taste of the Cobra lifestyle:
Last night my wife and I made the short, 30 min ride to Cairo, Ga (pronounced kay-row, as in the syrup. Yep, that place) for the 19th annual great southern antique car meet. We sat on the main street of the charming little town and watched with glee as 125+ cars, many of which were built in the 20's paraded up and down the street, thier ah-ooogah horns wheezing louder than those old four bangers under the hoods. I was in the Cobra, and several folks kept asking me crank it and rev it, which I did. Let me tell you, if you don't want to be treatd like a celebrity, this ain't the car for you.
Last night was so much fun, that I decided to go back to Cairo this morning, and register for the poker run and car show.
What a hoot, to be in a line of 120 cars rolling through the countryside, almost every farm house we passed had slack jawed kids gawking at us, or old bib overalled farmers leaning on a tractor, waving us on. Very cool. I was behind a line of model Ts for awhile, and took this picture: (real chickens)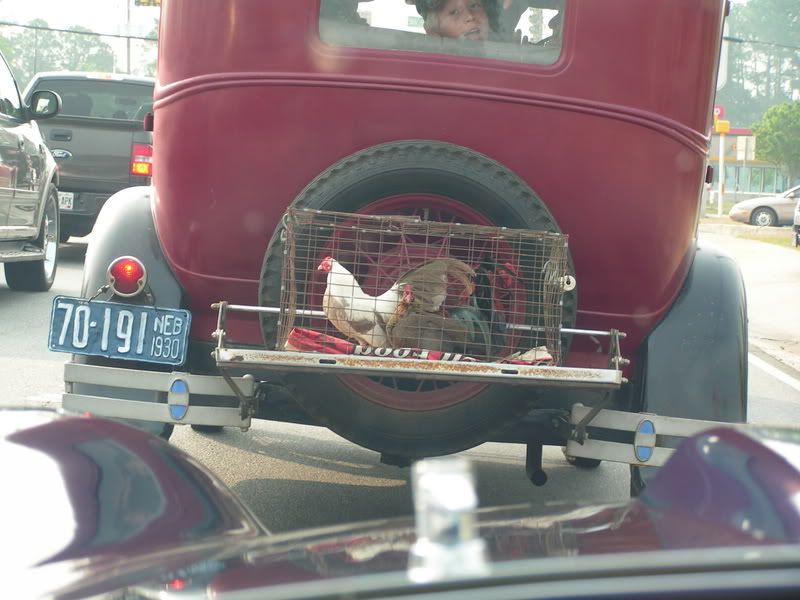 When we got onto a four lane highway, I blew by the old fords. Later, at tiny Spence, Ga, where we stopped for a break at the volunteer fire station, the T drivers were hooting and hollering, telling me how much they enjoyed hearing that glorious sound the Cobra made when I passed. At the fire station, we snacked on RCs and moonpies. (I kid you not) I shot this picture there: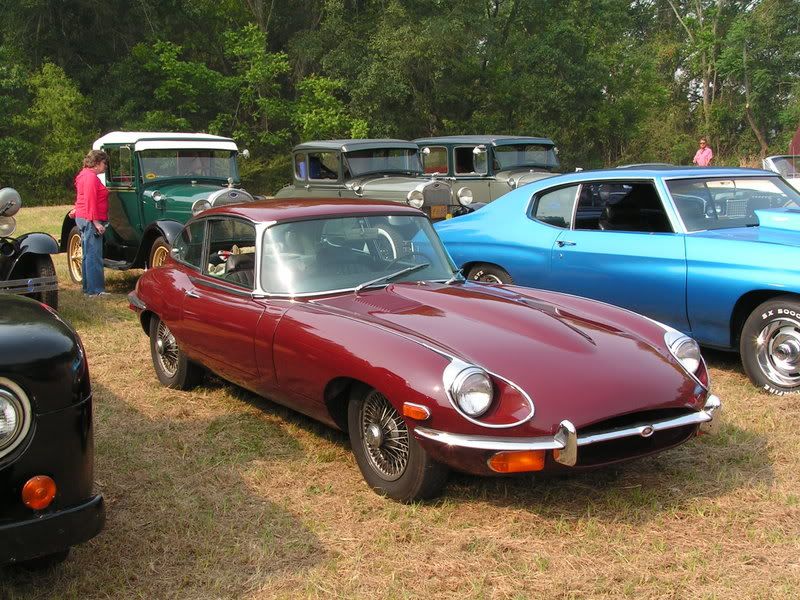 Then back on the road, more country driving. me and the guy in front of me, who was in a blue chevelle would give the on lookers a little show when passing by. Later, one of the marshalls came over and told me "I think you could take him" All in good fun: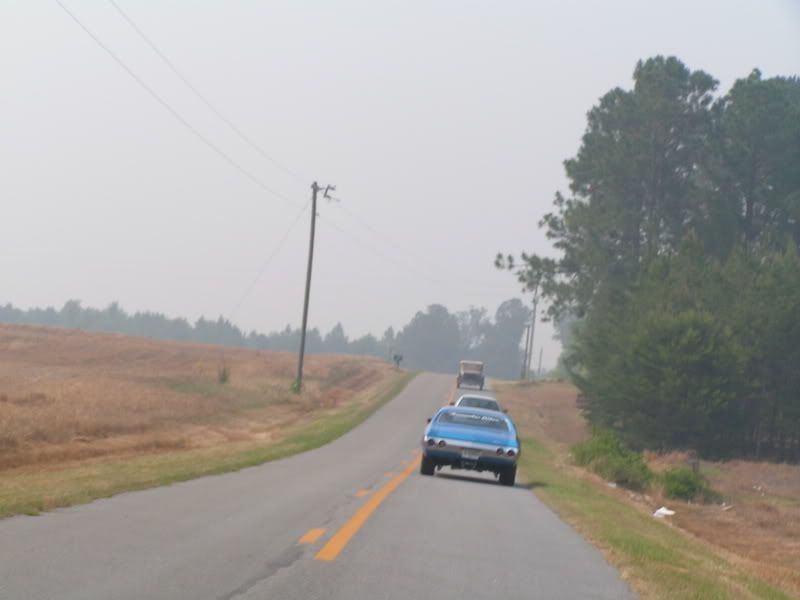 Later, at the park, the Cobra drew crowds. The questions came rapid fire: "Is it an original?" "How fast is it?" "How much does one cost?" "You're kidding, you built it?" "Those aren't very big bumpers." And so on. Parked next to me was a 1959 Ferrari (the same one I posted about a week ago) I was embarrassed for him at times, people would flock around the Cobra, almost ignoring his beautiful ride: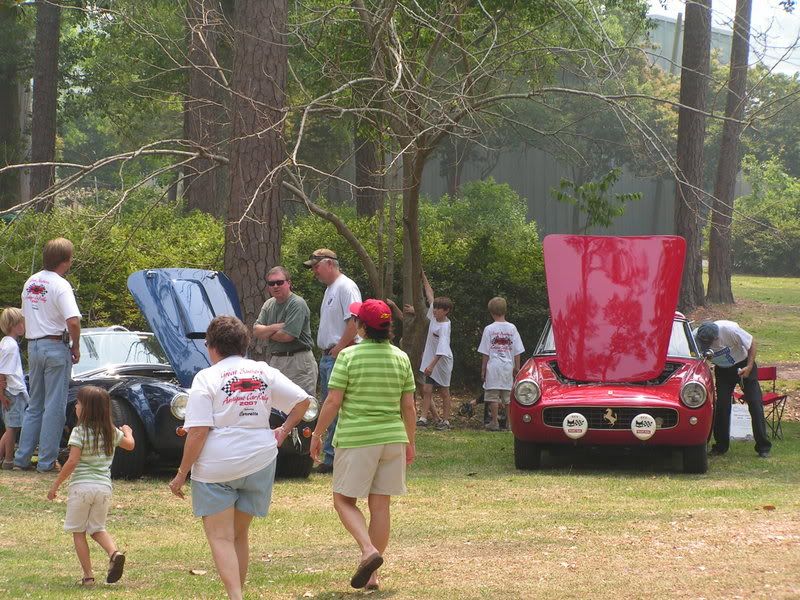 One more picture of some of the cars: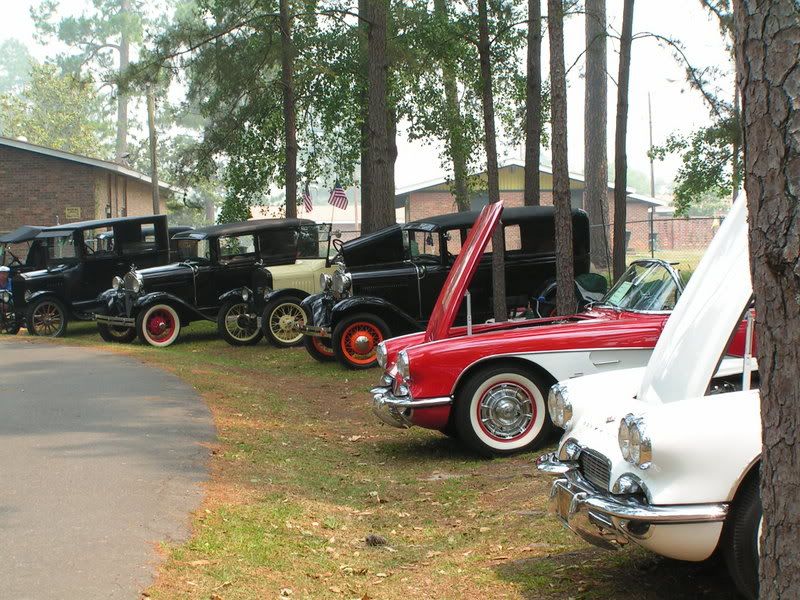 They gave out 6 prizes. I did not win one, and rightfully so considering all the incredible originals there, but I still had numerous folks come over to me when I was belting up saying they thought I should have won, or thought I had the best car there. I appreciated the words, but honestly, there were lots of better cars there.
The drive home was pure bliss. A guy in a 61 vette, and another in a 69 Charger and I tagged teamed for the lead coming down the winding Canopy Roads north of Tallahassee.
These are the kinds of memories these cars will give you. I met some great people today, forum member Scott Griner, and many others, because we simply share a love of things mechanical.
Build it, the memories will come.