---
Almost time to button up my 408 build. Time to think about purchasing some pulleys. All I need is waterpump alternator and crank. I want a serpentine kit. I have looked at march but not sure which one to get (which part #)?
Drop me some hints guys... Part numbers would be a great help.
Rgds
ROb
---
Respect is measured in craftsmanship!! **Meticulous**
---
Here's the part numbers for the stuff I just got for my 302. I would think the part numbers would be the same. Anyhow, you can look these up on Summit's web page.
MCH-1670 PULLEY A Shipped on 08/18/06 $185.88 1 $185.88
MCH-30355 ALT BRACKET A Shipped on 08/18/06 $105.88 1 $105.88
TRD-6062 ALTERNATOR FAN POL ALUM
Chris.
---
SOLD - FFR 5642, 302, GT40p heads, E cam, 1.72 rollers, Performer RPM, Holley 670, MSD, 8.8 w/3.55s, 15\" Team IIIs & BFGs.
---
I went with March Pulleys, the number is #30380. I am going with a Ford Racing Crate motor and I needed to get a crank spacer also with it. I ordered the pulleys from Summit.

Mike O.
---
The purpose of the serpentine belt was two fold. 1. It allows you to run every driven accessory from one belt. Makes assembly and parts bin maint easier. And 2. allows the manufacturer to mount all pulleys on the same plane, instead of stacking them. Makes for a shorter engine package.

You only have 3 pulleys. In order to add a serpentine belt, you need to add at least one more item; even if it's an idler pulley. That just creates weight, drag, and clutter with no advantage. Why do you want to do this?
---
.boB "Iron Man"
NASA Rocky Mountain TTU #42
Dart 427W, Momar 8 Stack EFI, 600'ish hp, TKO, 3.55 TruTrac, Red with Ghost Flames. Gone, but not forgotten.

To view links or images in signatures your post count must be 10 or greater. You currently have 0 posts.

---
If you are going to run only the water pump and alternator, get the alt bracket and ribbed pulley from Mike Everson, and use a stock serpintine 5.0 crank pulley, and a short serp belt. Considerably cheaper than the March pulleys. Unless you want the bling.
---
John

Dynacorn '67 Fastback, Dart 363, Magnum 6 speed, 3.7 ratio 9", Eaton Truetrac. It's in pieces but will be together, sometime.
'14 Taurus SHO. Most all the bells and whistles.
---
These are Summit pulleys I got for less than $80 for the set. They are powder coated steel and they make a set for a standard rotation wp (I didn't install the alternator pulley in this picture). You will also need the crank pulley spacer.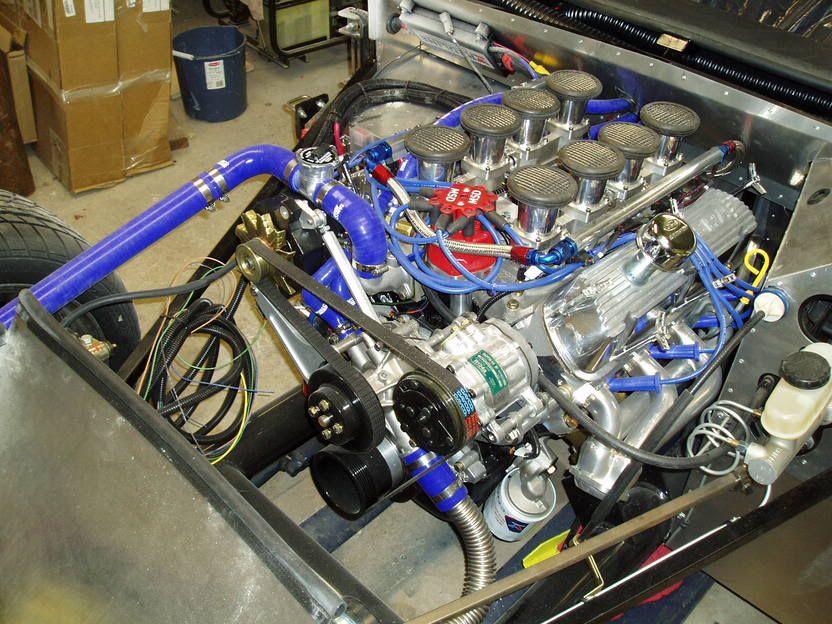 ---
FFR coupe #190 SOLD
RCR GT40 SOLD to Fast and Furious 5 producer
Kirkham #690 (289 FIA) w/427w and TKO 600 SOLD
2015 MB CLS63
2017 MB GLC43
1987 Land Rover Defender 90 w/LS1 in the works
1976 Land Rover Series III 109 w/300tdi and disc brakes
1975 Porsche 911 wide body hot rod w/1995 3.6
1965 Porsche 904 (Beck) w/3.2ss twin plug

Too many toys, not enough time!
section 8
Join Date: Dec 2005
Location: Gilligans Island NC
Posts: 5,116
---
Mike Forte has nice aluminum pulleys for just what you are doing. I used his pulleys with Ford brackets (inexpensive from RDI) . All the other mounting solutions I saw got in the way of my coolant header tank.(Engine mounted just like 1962. Jpersons is sweet I might need that, it's mounted low. Mark Reids is the higher one. I needed the serp because of it's higher grip than the Vbelt my mega amp 3g alt needs this as recommended by PA Performance. Bob
---
FFR5020 MK III Whitby body +paint, sai mod, Tremec,408, Cobra/Oben brakes , Halibrands, mass flo , gas n pipes, levy rad team3 spinners.Fortes driveshaft, pulleys ,and quick release steering.. Previously Bob T****r
---
If you really want an inexpensive setup and don't mind a little hunting expedition you can do what I did. Remember that I am running an early "long" style water pump, not the late model "shorty" pump. With a shorty pump you might not need the crank spacer mentioned below. I used a stock Mustang alternator pulley for serpentine belt, added a water pump pulley from a 1987 T-bird Turbo Coupe, part number E7SZ-8509-B, which is a flat grooved pulley for standard rotation water pumps. There is also a dual belt pulley, part number E7SZ-8509-A available and the unused front pulley is a snap to remove. Finally, I used crank pulley, part number E4ZE-6312-A7A. This crank pulley is a bit large at 6 1/8" diameter but I used it to achieve a mild overdrive of the water pump to help cooling at idle on the street. If you prefer sustained high RPM running, you can use a stock 1986-92 crank pulley from the 302 V-8 which will work nicely. I had to space the crank pulley forward by 1/4" using a FMS .375" aluminum crank spacer that I turned down on the lathe to .250" to align the crank and water pump pulleys. I also spaced the alternator forward by 1/4" to align that item. I believe I used a 39" Dayco belt on my 351W but I'm not sure. I hope this info helps you find what you want.
---
Political correctness is a doctrine, fostered by a delusional, illogical minority, and rabidly promoted by an unscrupulous mainstream media, which holds forth the proposition that it is entirely possible to pick up a turd by the clean end."

To view links or images in signatures your post count must be 10 or greater. You currently have 0 posts.

Currently Active Users Viewing This Thread: 1

(0 members and 1 guests)
Posting Rules

You may not post new threads

You may not post replies

You may not post attachments

You may not edit your posts

---

HTML code is Off

---