---
So I got roped into helping my bro-in-law get his kit cobra on the street.... but i need help.
Its and arnst/buttler chassis with a Jag rear end and some strange british front suspension. the PO said it was from an MGB, which i doubt, i have seen MGB suspensions and it's not even close.
Does anyone have any info on these?
[ March 05, 2007, 02:21 AM: Message edited by: KZJim ]
---
Steve Arntz and Ron Butler started making high qualilty Cobra replicas way back in 1976. One of the stunt cars used the movie Gumball Rally was a Arntz/Butler .Ron Bulter had been a key person in Shelby American co in the 60's,working in the race division with the famous Ken Miles,and certainly knew how to constuct a proper car,I believe that the Arntz/Butler was produced up through 1997. The car itself,used a strong square tube chassis and are suppossed to have MGB front suspension/steering and a modified Jaguar XKE rear suspension.
That is about all the info I know but want to add once again that the Arntz/Butler is a high qualilty replica and quite desirable.
---
FFR 392, carb,tremec 3550,tubulers,rear coil overs, 3 link,fr+rear vintage swaybars,dual rollbar,15\" PS wheels 245/60 295/50,Royal blue, white stripe,
---
Shawn, thanks for the info... the front suspension might not be with the car much longer, there is no camber adjustment.
I do know of a pile 5 of arntz/butler kits in various stages of assembly that are available if anyone should be interested.
---
Got any pictures of the "Pile"?
---
FFR3460;K/C 427w,630HP/615 lb ft , G.Levy, T-5, Konis', Gmen Blue w/White Stripes. 1965 Mustang Fstbk in process, Open Track Suspension, 347 500hp Wimbelton White/ Vintage Track Car

Cheers,
Clark C.
---
I have a few.. mostly the suspension. If anyone can identify the red front hub it would be a great help, there is no part # or name on the units.
I will be making a trip to see the 'pile' in the next few weeks. I'll be sure and take plenty of pics and post them.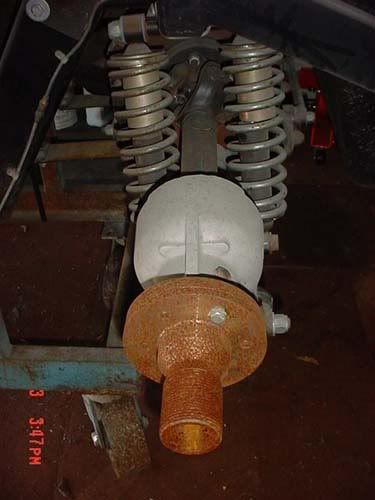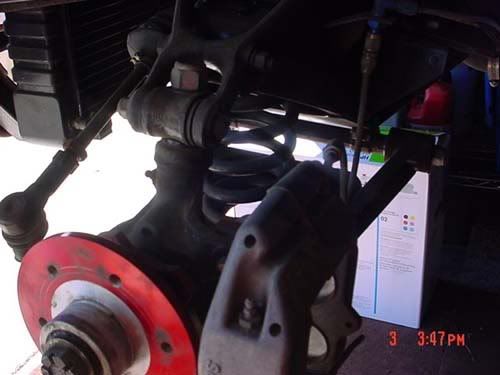 ---
Back is Jag based. most likely a mid 70's . Front is most certainly MGB related.


Bill S.
---
Live simply, care deeply, and have a wonderful life!
Instead of being part of the problem, why not be a part of a successful and positive solution.


---
Ever seen the front hub adapters?... they have no P/N or manuf. name
---
There's a section for these cars over at Club Cobra. I'm sure you could get some answers there.
---
I'd have finished a long time ago if I knew they were this fun!


FFR 4888: Street Cobra: No Scoop, No Pipes, No Rollbar.

302, TW heads, E-cam, Edlebrock intake and carb.
Junior Member
Join Date: Jan 2008
Posts: 1
I believe you do indeed have a Butler or maybe a Arntz/Butler.
I just a Butler, #86. Ron has built 104 cars. He is Ventura, CA and a very nice guy. The cars are extremely nice...MG front end and Jag IRS. Mine is a 488" Aluminum Dove FE with a Halibrand quick change rear. Ron was crew chief for Ken Miles after being on the Shelby team from 64 to 70. Was on the team at LeMans, etc when they whipped Ferrari's butt.
I visited Ron during the Christmas week to find out as much as possible about my car. I am sure if you sent him pics, he would be happy to help you identify what you have. His cars all have square tube frames, engines set back 7 or so inches, beams in the doors, etc. The dual rear coilovers in your pics looks like Aldans and are positioned like mine.
Give him a call at 805/649-8000 and send him some pics. You will enjoy talking to him. If I can be of further help, email me at
sotxbutler@yahoo.com
. Send me your email and I will send you come pics to compare.
Russ Richard
That is a MGB front suspension that was used by Arntz/Butler. We did one a few years ago that was in a wrech that we changed over to C4 corvette front. It worked way better.
---

To view links or images in signatures your post count must be 10 or greater. You currently have 0 posts.
Pro Builder and Go Fast Specialist
99/2000 NASA PSO Champion in a FFR
2005 FFR Challenge West coast Champions
2nd 2005 Nationals
Sponsor for Tony B. ST-2 National Champion 2007
2009 TTC runner up-2010 TTB Runner up
Over 180 Turnkey FFR's in 20 years and still counting


To view links or images in signatures your post count must be 10 or greater. You currently have 0 posts.

To view links or images in signatures your post count must be 10 or greater. You currently have 0 posts.

I have posted some pics of my Butler. The MGB front end is shown in a couple of pics. Also the Aldans that I mentioned earlier.

Search gallery, username "sotxbutler"

Russ
Quote:
Long been looking for this information, thank you guys for the post!
WTF is this? Another super old thread brought back by a guy w/ 5 posts?
---
FFR 5353K, 408W, TKO 500, 2015 IRS w/ 315 gear, Breeze QA1 DA coilovers front and rear, APE hardtop, Forte front swaybar
Charter Member
FFCars Master Craftsman
Join Date: Jul 2002
Location: FLORENCE, ALABAMA
Posts: 1,509
---
that is why there is a search function on the web


you don't have to read it or response
---
RCR GT 40, 347 with Eight Stack Injection system with 0 miles
Currently Active Users Viewing This Thread: 1

(0 members and 1 guests)