---
I need to purchase a set of rear IRS calipers. I am not positive of the exact year car that my knuckles came out of since the rear cage was already taken off of the car at the scrap yard. They had about 8 of them in a row, none with calipers. I picked the one that had the locking ratio I wanted.
I have two possible sources, one has this description:
Quote:
FITS: 1993-1997 MERCURY COUGAR
1993-1998 LINCOLN MARK VII MARK VIII
1993-1997 FORD THUNDERBIRD
CAST # 2364 / 2365 VARGA REAR
.
The other says:
Quote:
FITS:1988-1992 LINCOLN CONTINENTAL, MARK VII, MARK VIII
1987-1992 MERCURY COUGAR, SABLE
1986-1993 FORD MUSTANG, TAURUS, THUNDERBIRD
CAST # 2306 / 2307 VARGA
.
What is the difference? Will either one work? If not, is there a way I can positively ID my knuckles? Here is one, if anyone can help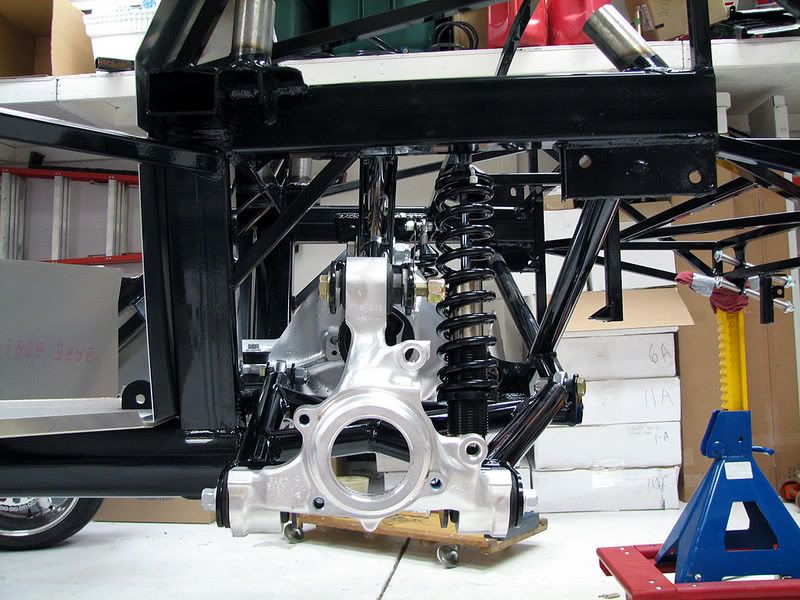 Thanks!
---

MKIII #6171 IRS 3.27 POSI Chrome Bullitts
FSB went BOOM!
Replaced with LS376/525 525hp 489ft/lbs
Wilwood brakes from Mr Levy (WOW!)

Senior Member
FFCars Craftsman
Join Date: Dec 2002
Location: Cerritos, CA
Posts: 688
---
It doesn't really matter what year your assembly came from. The spindles / knuckles are all the same. Whatever calipers you get just need to match the rotors you choose. That second set you show "Varga 2306/2307" don't sound right. Mk VII, Sable, Fox Mustang, and Taurus calipers won't fit IRS applications. If you get 89-92 calipers, you'll need 89-92 rotors. If you get 93-97 calipers, you'll need 93-up rotors. Any of the calipers will bolt up to your spindles. You just need the matching rotors.
---
Decy is correct. One thing I found is that these calipers were VERY expensive, especially without a core. I picked up a trashed set for $20 from someone on the forum upgrading to cobra calipers, saved me $75 or so on the core charge. New loaded cobra calipers from Max at 5 Star were not much more expensive but I wanted 15" rims.
HTH,
mike
---
MKIII 351W, mid-shift T5, 3.73 IRS, Wilwood Dual M/C, PBR/Tbird brakes, Vintage 15" Wheels, FFR Koni's, SAI Mod delivered 09/2005, first drive 04/2009 Still not done!!
---
THANK YOU!!
---

MKIII #6171 IRS 3.27 POSI Chrome Bullitts
FSB went BOOM!
Replaced with LS376/525 525hp 489ft/lbs
Wilwood brakes from Mr Levy (WOW!)

Currently Active Users Viewing This Thread: 1

(0 members and 1 guests)