Need carpet / heel pad advice
---
Getting close to installing my carpet and thinking about the location of heel pads. I stole this picture from the forum (sorry NuBlue). Definitely want a (smaller) pad beside the go pedal and on the lower part of the floor as shown. Also thinking about a strip near the edge as outlined in red. Is this a high wear area? It's been a while since my car was on the road and I can't remember if I sometimes rested my foot there.
Also, any advice on gluing the pads on? I have this vision of coating the bottom of the pad with adhesive and clamping it between 2 boards as the glue squirts out on my new carpet. How do you do it?
---
Chas Randolph Sidney, Ohio FFR 6113, '91 5.0 EFI, TFS heads, Comp cam, GT40 Tubular intake, 24lb injectors T5Z w/midshift, 3-link, SAI Mod, TurboCoupe rear 3:55's, 17" Team III's, Picked up @ FFR on 5/5/07, First start 10/5/08, Go Cart 9/27/09, Licensed & Legal 9/30/10. Painted 6/3/12. Graduation 8/21/12. Engine rebuilt & pumped up May '13.
Senior Member
Join Date: Sep 2010
Location: Stratham, NH
Posts: 182
Senior Member
FFCars Captain
Join Date: Jan 2009
Location: StL, MO
Posts: 4,570
Does anyone put a heel pad on the dead pedal side? (Is the wear minimal / not worth the effort?)
---

To view links or images in signatures your post count must be 10 or greater. You currently have 0 posts.
F5R #7446: MK4, 302, T5 midshift, 3.55 Posi IRS, 17" Halibrands
Delivered 4/4/11, First start 9/29/12, Licensed 4/24/13, PAINTED 4/17/14!! Wahoo!
Moderator
Join Date: Jan 2002
Location: San Diego, California
Posts: 7,369
I just did this:
Ray
---
If it weren't for physics and law enforcement...I'd be unstoppable!

This is what I used. A local upholstery shop sewed them in for me. I don't think I would try glue.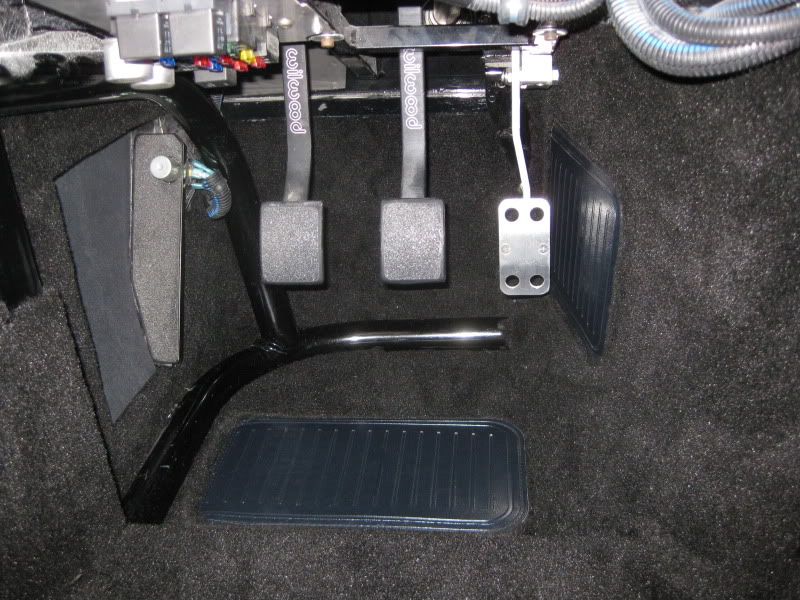 Jeff
---
Mark III complete kit ordered 12/03/2007, received #6351 1/22/2008 Homemade mods: driver footbox extension with deadpedal and dimmer switch, widened passenger footbox, brake reservoir mounting bracket, under trunk storage box, custom dash and dash extension, heater forward box, custom glove box, under dash switch panel, Explorer motor carb conversion, first start 7/10/2010, paint by Performance Automotive 11/20/2010-5/7/2011, Graduated 11/22/2011
Thanks for the link John. I'm just about to start that part of the my carpet. I was wondering where to buy those.
Wibby
---
306, AFR 185 heads, Kenne Bell Supercharged, power steering, power brakes
One real problem that I had in the footbox was that my heel wore out floor mats pretty quickly. I attribute that to the soft aluminum floor. I now use aluminum diamond plate as above, but I painted mine with bedliner.

Anyway, you might want to think about some stiffener under the carpet. I think it could make your carpet last longer. Also, you might want to buy a couple spare pads. If my record is representative, you'll need them.
Snake Farmer
Join Date: Aug 2006
Location: Vancouver Island B.C.
Posts: 9,845
Quote:
Does anyone put a heel pad on the dead pedal side? (Is the wear minimal / not worth the effort?)
That was actually the first place I noticed some carpet wear. I added a rub strip along the bottom of the footbox extension mod. That is where the side of my shoe rests, as the upper toe part sits on my dead pedal. Added a throttle pedal rub strip too.
The optional FFR floor mats fit and wear extremely well. They protect the original carpeting. They also protect the area that is highlighted in red, although that area has not yet shown any signs of excessive wear.
I also added some Dynamat under the foot box carpet, to cushion it, as well as act as a sound deadener.
Currently Active Users Viewing This Thread: 1

(0 members and 1 guests)